For a year and a half now, I've struggled.
It's been that long since I had my feet on the ground among the vines in Israeli wine country, and until now I'd yet to write a word about the experience, apart from a few social media updates and the odd mini-review.
The mistake I'd made over that period of waiting? Thinking that there would be an appropriate time during which the political maelstrom that is Middle East politics would present a low-key time for me to simply be able to focus on the region's wines themselves, without the specter of centuries upon centuries of conflict rearing its ghostly head obtrusively behind. And it's just difficult to do that when you have visited vines that grow among former Lebanese army bunkers, or are surrounded by land mine warning signs, or that have turned up with the occasional IED among them. In that context, waiting for a quieter period of Israel in the national news before focusing on something as simple as vino doesn't seem like a bad idea.
Buuuuuut… Fat chance. I may never see that time. And so I suppose this is the start of me trying to do a (very) small part of in taking matters into my own hands with giving Israel a bit of media focus that isn't packed to the gills with cringe-worthy tales of damage to pride, property, and lives. Well, perhaps the writing will be cringe-worthy, but hopefully that's the extent of it.
Fortunately, Israel's winemaking history surpasses its history of conflict, both in terms of longevity and in interest. There is evidence of winmaking and (particularly along the Mediterranean coast) wine export dating back at least five thousand years. About seven hundred years of Muslim Ottoman influence slowed things down, but by the 1880s a wave of Zionist immigrants, focused on farming, renewed and rejuvenated the region's wine industry. Investment from the Rothschilds in France helped to modernize the industry here, and another wave, starting in about 2008, focused the fine wine scene mostly on Mediterranean grape varieties, and saw the development of more modernized marketing approaches.
And despite all of that, as Recanati winemaker Gil Shatsberg told me, "Israeli wine is not really defined yet…"
Israel has few formally defined AOC-style wine areas, few real AOC-styled rulesets and dictates for wine-growing and wine-making. After fifty centuries, there is no winemaking school, so stylistically Israeli fine wine "is like a fusion from all over the world," according to Shatsberg (himself a UC Davis grad), with many in the industry studying abroad and bringing stylistic preferences and techniques back with them. This has, it seems to me, created a situation with unique potential in the wine world, provided that the rest of the world, and Israel itself, can get past the politics to allow it to properly bloom…
2016 Recanati Winery Marawi (Upper Galilee, $35)

In an industrial park that seems straight out of the 1980s  sits Recanati winery, established as a thoroughly modern Kosher outfit in 2000 and that now exports to the USA and Rance, among other countries. At Recanati, Shatsberg deals with the larger issues facing Israeli wine-growing; namely, water access (a "sensitive issue" with strict enforcement, and grape ripeness. "It's very easy to go over-ripe here," warned Shatsberg; "a matter of three or four days at harvest can be crucial." With all of the focus on modernization at Recanati, it's interesting that perhaps their most interesting wines focus on nearly lost, indigenous, ancient grape varieties that survived the Ottoman times by being used for table grape consumption. Marawi is one such project, a grape found growing wild, and then (with funding from a Palestinian grower) was analyzed in Milan and found to have a unique DNA profile. This version is lean, clean, and very mineral, with hints of citrus and white flowers. It's rounded out texturally by lees contact, toastiness, and a heaping of saline notes. A better option with Mediterranean seafood would be difficult to procure.

2015 Recanati Winery Special Reserve White (Galilee, $45)
A Roussanne/Marsanne blend, this is Recanati's premium white, and it's true to its Rhone roots: oily, floral, tropical, rich, well-integrated, peachy, and damned sexy. The finish is toasty, long on the stone fruitiness, consistent, and just right on point. Having all of that minerality is a nice bonus. There's a lot of wow factor here.

2015 Recanati Winery Lebanon Vineyard Special Reserve (Galilee, $65)
This Cabernet, according to Shatsberg, required something unique even among the often unique requirements of fine wine growers: the intervention of the UN. Harvest is done at night, opposite the Lebanese mountains (which provide a cooling influence). The Israeli army patrols during harvest as well. Maybe some of that tension makes a spiritual appearance in the wine itself, which has both grit and great freshness, along with smoke, herbal spcies, minerals, and gorgeously ripe fruit.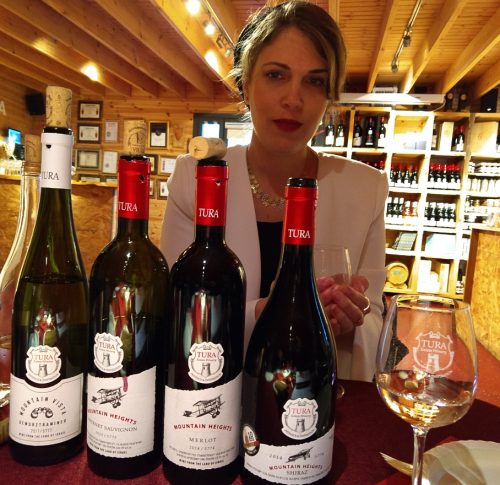 2017 Tura Estate Winery 'Mountain Vista' Gewürztraminer (Shomron, $27)
"Every day is a miracle," intoned Vered Ben Sa'adon when I visited the boutique winery founded in the 1990s by her and husband (and also winemaker) Erez in Shomron, an area known for producing wine for Jerusalem about two thousand years ago. Ancient fortification ruins have been found in the region, probably placed there to guard farming. Despite the auspicious history, the Ben Sa'adon couple have had to overcome the kind of challenges that make boring days probably seem much like small miracles.
Originally from Holland, Erez's grandmother survived the Holocaust; she views wine as "the best Jewish answer that we could give" to overcoming turmoil. "I'm a religious woman from this are, it was not easy," explained Vered when I visited as part of a media tour. "Everyone wanted to ignore me. But we have fifty medals from the world, and they can't ignore us anymore." Adding to the challenges of religion and sexism is the fact that Tura is kosher (with their labels sporting both Gregorian and Jewish calendar vintage years, so that some of the wines are from 3760, for example), but in a small space that also has to accommodate non-kosher visitors. Their solution: a sort of loophole in the "two seals" rule; with a double-lock over their barrels, making them likely the only kosher winery where someone like me can actually touch some of the equipment.
And then, there are the terrorist bombs. Three of them, which according to Vered exploded in their vineyards in Mt. Gerizim about fifteen years after planting (near a formerly Sumerian area acquired after the Six Days War). Makes things like the occasional vineyard black widow or rattlesnake seem kind of tame, doesn't it?
So maybe the miracle is that they can make any wine at all, let alone excellent wines. Their Gewürztraminer is chock full of lychee, ripe stone fruits, florals, and sports a rich palate of tropical fruits, astringency, plantains, and excellent balance between its sweet and dry sides, all elegantly belying the struggle of its production.

2015 Tura Estate Winery 'Mountain Heights' Cabernet Sauvignon (Shomron, $42)
Seeing nearly two years in French oak, and hailing from twenty year old vines, this is an elegant Cabernet that mind remind some of the better incarnations from Chile. Dried and green herbs, ripe dark plums, wood spice, a toasty finish, and full of power. It's young now, and grippy, but still accessible and finely crafted.

2014 Tura Estate Winery 'Mountain Heights' Merlot (Shomron, $44)
Almost two years of mostly new French oak give this plenty of sweet wood spice, but there's no subduing those black plums and black olives. Everything is silky here, but with a nice hit of acid to give it some backbone, and hints of wet stone to give the nose some complexity. So… a wine that is hard to resist.

2017 Sea Horse Winery 'James' Chenin Blanc (Israel, $NA)
Zeev Dunia is diminutive only in stature; otherwise, he's like a towering force of nature. A former filmmaker, since 2000 Dunia oversees winemaking at Seahorse, producing about 25,000 bottles per year from eight acres of organic, low-yielding, high-density-planted vines. Much of his end product is French-inspired, and named after artists or other figures Dunia admires. In the case of his Chenin (a variety in which, Dunia claims, he was involved in getting produced in Israel in the first place), it's Ronnie James, former head winemaker of Tzora Winery and one of his mentors. I tasted it from barrel sample, and it was peachy, broad, pure, long, textural, and lovely.

2015 Sea Horse Winery 'Pure Ku' Counoise (Israel, $NA)
"Israel is an impossible country from all sorts of possible views," Dunia told me; one of which happens to be acquiring grape plantings, due to the country's agricultural restrictions. In 2010, importation from certain vine nurseries was permitted, and Dunia "saw on the list Cinsault and Counoise, and it was like a kid in Toys R Us fpr the first time!" This is 100% Counoise, spicy, meaty, mineral, salty, juicy, savory, and pure. Favoring zest and spice rather than complexity, but that won't stop you from falling for its tangy loveliness.

2013 Sea Horse Winery 'Romain' Red (Israel, $NA)
A GSM blend at heart, augmented with Dunia's toy-store-shopping-spree Cinsault and Counoise. Chewy, dark, leathery, and very, very spicy on the nose, there's more meaty richness on the expressive palate. Hints of stone and flowers come later. Uniquely characterful, much like its winemaker.
Cheers!