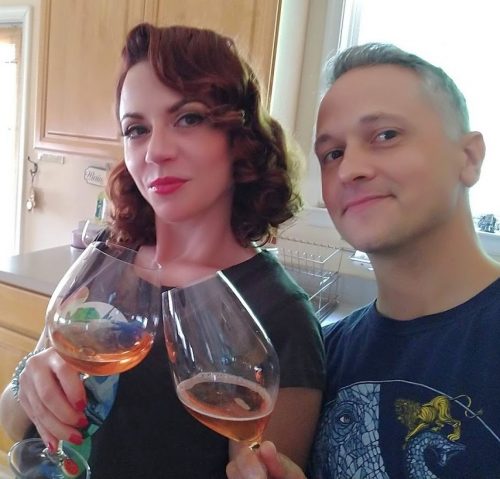 It's undeniable that 2020 has been, by and large, a dumpster fire, sh*t-show of a year. BUT… it hasn't all been fetid, noxious piles of flaming refuse.
At 1WD HQ, there have been some aspects of 2020 fortuitous enough to justify breaking out the good stuff. And, I do mean the good stuff.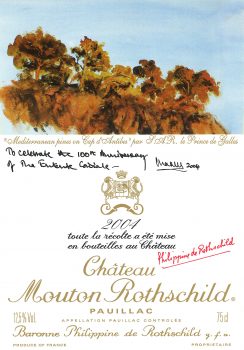 For starters, I managed to write and publish a book (technically, two books) in 2020 (with stellar reviews, so thanks, all!); a first for me, and one of those life events that, I suppose, justifies at least some celebratory libations. And my special-lady-friend Shannon managed an impressive feat of her own this year (even by her normally impressively high standards): she obtained the CPCU certification.
For the vast majority of you reading this who, like me, aren't intimately familiar with the CPCU, it's the property insurance industry's equivalent to the Level 4 Diploma in Wines and Spirits, but in this case would be like passing that notoriously difficult series of exams without the benefit of classes, or having a study group. Oh, and also doing it in less than half of the recommended time!
So, we felt overdue for a properly obnoxious celebration, and celebrate properly in obnoxious fashion we did – by opening up two stellar examples of why French wines are still (somewhat annoyingly, because France) the benchmarks for the world's finest in wine quality…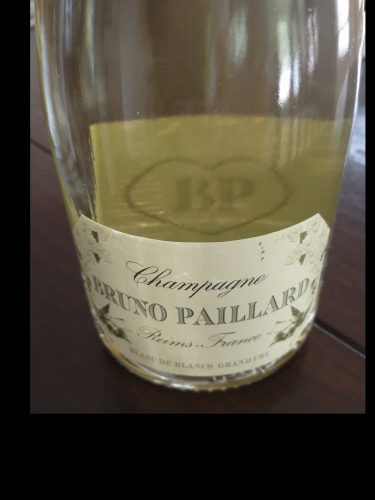 NV Bruno Paillard Grand Cru Blanc de Blancs (Champagne, $68)
Few non-vintage Champers bottle-age as well as a good Bruno P., my friends. I gave this little number – crafted from first pressing Chardonnay, sourced exclusively from Grands Grus vineyards in the Côte des Blancs, and blended with reserve wines that span 25 vintages going back to the mid 1980s – some extra cellar luuuuuuuv. This bottle, provided as a media sample some time ago, was disgorged in 2010. So… to its four years of sur lie aging, and additional ten months bottle aging before release, you can add another 9+ trips around the sun before we popped it open.
The low dosage, Extra Brut style shines like a beacon of hope in the darkness here. Lovely, lively, and pithy, sniffing and sipping this gem is a bit like enjoying a gourmet version of an unsweetened yellow apple pie, with fresh, toasted almonds dotted gently across it for good measure. While energetic almost to a fault, the age gave it a sense of bakery-fresh creaminess that was sexy and mouth-filling. Yet another example of why this producer might actually be wasting its time printing the disgorgement date on the back label… When was it bottled? Who gives a f*ck? Open that suckah up and fill up my glass!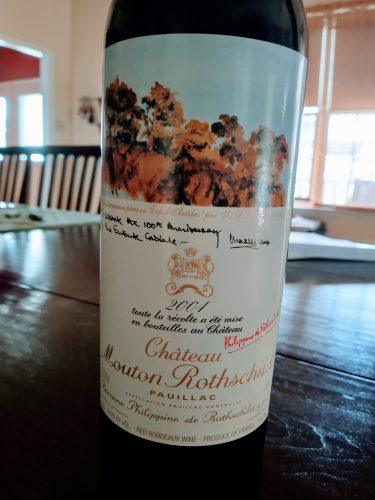 2004 Chateau Mouton Rothschild (Pauillac, $500)
NOT a sample, beeeeaaaatches! I bought this puppy with my own hard-earned dollars just after release, when the buzz about Bordeaux's epic 2005 vintage started putting some downward pressure on the underappreciated 2004s. Mouton is most famous for two things: successfully elevating itself to First Growth status, and having impressive artists create works for their labels each vintage. For 2004, they turned to HRH Prince Charles, Prince of Wales, who agreed to allow them to use one of his watercolor creations. As Mouton describes it:
2004 occupies a special place in our memories since it marks the Centenary of the Entente Cordiale, concluded by Britain and France on 8 April 1904. King Edward VII is known to have played a prominent part in the agreement, which would herald a genuine alliance during the First World War and forever transform two rival powers into sisters by choice. The commemoration of such an important milestone in Franco-British relations was the occasion for many celebrations in 2004, culminating in official visits by both Heads of State. That is the spirit in which Baroness Philippine de Rothschild approached HRH The Prince of Wales, a talented artist and a direct descendant of Edward VII. The Prince agreed that the label for Mouton Rothschild 2004 could be illustrated with one of his watercolours, inspired by a French landscape, in celebration of the Entente Cordiale. He has added in his own hand: «To celebrate the 100th Anniversary of the Entente Cordiale – Charles, 2004». Standing out against an azure sky, rooted in the depths of the soil, the pines depicted by the artist are in the image of the vine, fruit of the ever bountiful union of the sun and the earth.
As for the vintage itself:
2004 will remain in the memory as the driest year since 1962, with only 560 mm of rainfall. The drought conditions began during the winter and continued throughout the spring and summer, though some rainfall in August gave the vines the water they needed and favoured veraison. Glorious weather in September enabled the Merlots to reach full maturity and picking began on 29 September. The grapes were rich in polyphenols and showed excellent sugar concentration. The rest of the harvest was delayed in order to encourage all the aromatic potential of a highly promising vintage. Picking in the best parcels of Cabernet Sauvignon resumed in exceptionally sunny conditions and higher than average temperatures and harvesting was completed on 15 October.

Cabernet Sauvignon 69%, Merlot 15%, Cabernet Franc 13%, Petit Verdot 3%
Blah, blah, blah… so… how did it deliver on the goods 16 years later?
In a word, splendidly. Despite having a medium/ lighter body (it's under 13% abv), its panoply of black currant fruits are spicy, dark, juicy, and quite deep. Its overt spiciness gives way to more subtle aspects – dried herbs, graphite, cloves, earth – and not-so-subtle aspects (like supple leather, and lots of it!). There's gorgeous length on the red plum and leather finish, which lasts minutes. I couldn't help but feel that so many of its elegant, wonderful nuances are likely always there, but just aren't as apparent in the more bombastic, warmer vintages that froth the wine critics up into a circle-jerk frenzy. Several things about this wine speak more softly than that, and it's all the better for it.
Cheers!