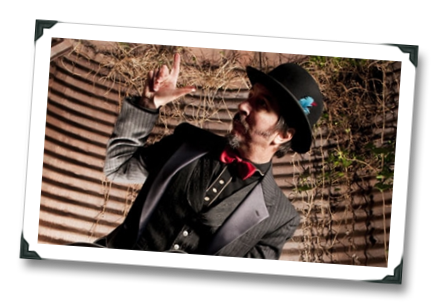 I have, quite clearly, met my match when it comes to quirky wine interviews.
His name is Les Claypool, and he's probably most famous for fronting the talented and popular hard rock band Primus (who are on tour this Summer).
As a (wannabe) bassist (going on 20 years) myself, I've often found Les' music and technical proficiency inspiring.  I recall being an undergrad in university and hearing Primus' live album Suck On This! for the first time; "this kicks ass," I thought, "but I doubt anybody but bass geeks like me would get into this stuff."  Thankfully for millions of music fans everywhere, my prediction was very, very wrong.  Primus went on to release two Platinum and one Gold album, achieving impressive chart success with their singles and wildly eccentric videos.
What many people might not know about Les is that he's also been a filmmaker, as well as the driving force behind multiple successful and stylistically diverse rock bands such as Oysterhead and Flying Flog Brigade. He has, somehow, also managed to find time to create a wine brand – Claypool Cellars, which produces a promising and very enjoyable Russian River Pinot Noir ("Purple Pachyderm") with help from Shad Chappell at Vinify Wine Services.  Les' description of the `07 Pinot:
"We've ended up with a California Pinot with a fairly low alcohol content (13.9%), strong color, and good extraction that gives complexity without being overly "jammy." Coupled with a moderate amount of French oak and some whole cluster fermentation, we have a vino that sits silky in the mouth with a finish that glides away with elegant authority."
`08 was a bit of a different story, as heat in the RRV made trying to render a low alcohol Pinot much more challenging.  I tried samples of two bottlings of the 2008 Claypool Cellars Purple Pachyderm: one a Russian River Valley Pinot Noir (307 cases, about $42), the other an RRV Pinot from Hurst Vineyard (110 cases).  Both are big and expressive, just like Les' music; while some might shy away from the boozy palate on both of these wines (each is around 14.4% abv), few would deny that the red berry fruit on the nose packs a substantial amount of depth and intensity while deftly avoiding the dreaded "jar of red jam" territory, despite the heat.
I managed to catch up with Les via email during a break in Primus' current tour, to talk shop on the wine front. I still count Suck On This! and Tales From The Punchbowl among my favorite albums – and after 20 years of bass playing, still have trouble copping Les' intricate, driving and chord-driven bass lines (though I'm making good progress on "Southbound Pachyderm"…) – so this interview was a particularly fun and inspiring one for me.  I think you'll find it fun as well, especially after witnessing how effortlessly and eloquently Les one-ups me in the quirkiness department.
Enjoy!…
1WD: So… you're an artist, author, front man with multiple rock bands, a filmmaker, and now owner of a wine brand. How the hell did the wine thing come about (and do you ever sleep)?
Les Claypool: I'm actually asleep right now. I am a highly functional sleepwalker. I moved to West Sonoma County 15 years ago and my house, at the time, was surrounded by apple orchards. Over the years I've watched the orchards slowly become replaced with pinot noir vines. Subsequently I became friends with many winemakers, vineyard managers, coopers and other folks within the industry. Having traded my smoking vice with a thirst for pinot, a couple of buddies and I decided to make some vino from a ton of fruit that became available to us just so we could fill our cellars (closet in my case) with juice. We then had the opportunity to get four tons of premium pinot grapes in a year (2007) when people were scrambling for fruit. Next thing you know we had a lot of wine and a boutique label.
1WD: How did you hook up with winemaker Shad Chappell and Vinify Wine Services?
LC: Because we had some really nice fruit, we wanted to make sure it was processed the best way it possibly could be. Steven Canter helped us with our first vintage and he suggested Vinify. There was a fellow there, Shad, who we connected with. He was a diver/fisherman/tree trimmer/snowboarder…one of us. Plus he made a kick ass rose' that he called "The Leg Spreader" He was very helpful that first run and since we hit it off, we asked him to be our guy for the subsequent vintages.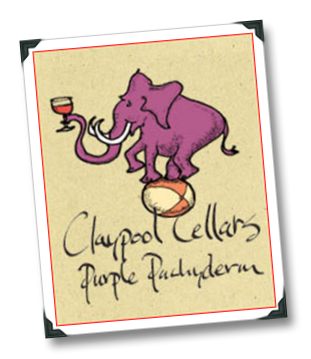 1WD: Do you think that Tool's Maynard James Keenan is trying to cop your deal with his new wine venture? I'd ask who think would win in a fight between the two of you for the title "#1 rock front man wine-guy" but he looks pretty tough to me (but I'm guessing you'd have a lot of reach on the guy)…
LC: I would definitely have reach on him but I remember back in the day he was studying Gracie Ju Jitzu so he would probably choke me out. I think I could probably get a few jabs in before I see stars though. Maynard actually has a pretty vast knowledge of wine. I know Russian River Pinot, that's where my palate starts. As far as #1 rock guy or wine guy for that matter, I've always been the fellow that exists and thrives "under the radar". Underground wine from an underground entertainer.
1WD: How would you describe your own personal wine knowledge before and after establishing Claypool Cellars? Did the experience re-wire the wine portion of your brain?
LC: Making wine from vintage to vintage is very much like how it was making my first recordings. You learn more and more with each effort. I will add too that winemaking, like recording is very subjective. Some like a little more attack on the kick drum, just like some want a little more (or less these days) oak on their pinot; ten percent whole cluster or 8:1 compression on the vocals; Fender or Ferrer.
1WD: Claypool Cellars currently focuses on Pinot Noir – was that choice a function of personal preference, convenience in terms of what varieties are producing great wine in the RRV? Both/neither?
LC: We are branching off into the Rhone world with a GSM that should be ready next fall.
1WD: You recently performed RUSH's "Spirit of Radio" at the 2010 Canadian Songwriters Hall of Fame ceremonies, in which RUSH were inducted. Did your brain almost self-implode and melt from the coolness factor of getting to do that? Also, is Geddy stingy with his stash of primo Burgundy reds, or have you guys shared some bottles of that juice?
LC: The Rush guys have always been very generous with us in many ways. Back in the day, we would go to fancy dinners with those guys and they would order incredible bottles of expensive juice and dote over each glass. I was just a young pothead who would ignorantly slurp it down while quizzing Geddy about By-Tor.
[ Editor's note: Wooooooo-YEEEEAAAHHHHHH! ]
1WD: Did you have a particular wine style in mind when establishing Claypool Cellars? Are you modeling the Pinot after a fave of yours, or going for another approach?
LC: For me getting started, Merry Edwards was the Jimmy Page of Pinot Noir; meaning when I heard "Heartbreaker" from Led Zeppelin II blaring from my best friend's older brother's room when I was 12, I knew my life had taken a new direction. She was the one that really got me started on the Pinot trail.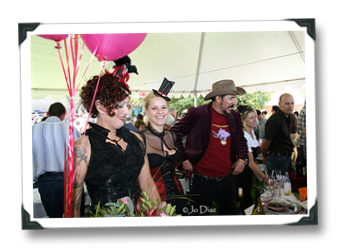 1WD: Have you ever used the masks and costumes from past Primus videos as a means of chemical-free vineyard pest management?
LC: I've thought of putting on my pig mask and wandering the fields in the nude while eating from the land and fertilizing the vineyard with my waste, (sort of a mutated twist on biodynamics), but I doubt Ben Hurst (the vineyard owner) would go for it.
1WD: Do you follow wine industry happenings and trends? Any thoughts on how on-line coverage of wine is changing things?
LC: Obviously I am a pretty busy guy so I don't obsess over each periodical as they hit the stands. My wife keeps the Purple Pachyderm online community fired up and she enjoys it. I've always been impressed with the way Roshambo interacted with the community and brought their wine and young progressive artists together. Naomi has become a friend of ours and I've let her know that the inspiration to take a more lighthearted approach to our label and create a vino that is the best quality it can be yet not be too pretentious, is partially because of the things she has done with her label.
As far as trends, it should be apparent to anyone who is familiar with my music and whatnot that I've never been known to pay much attention to what was going on in the mainstream. That being said, when we made our first vintage in '07 we very much tried to move away from the "big pinot" approach that was dominating the wine lists around NorCal. We wanted a pinot that was low in alcohol and soft on oak yet with some nice extraction and color. The fruit that year was stellar and I've seen many great wines come out of RRV in '07. '08 was a different story with the heat spikes and all. That is where Shad came in and really shined for us. He did a spectacular job nurturing that juice and we ended up with a couple of pinots that I'm very proud of.
The internet's effect on the wine business is apparent in the quantity of new young wine enthusiasts that seem to be popping out of the woodwork. I think on-line coverage of the vino world is where most of those same folk are getting their information and fortunately, unlike the record biz, college kids haven't figured out how to digitize and trade bottles of wine across the internet for free.
1WD: What's next for Claypool Cellars? Anything we should be on the lookout for (apologies for ending that question with a preposition, by the way)?
LC: Well, I've already spilled the beans on the GSM. It's coming along fabulously and, assuming I don't take the bulk of it for myself, we should have a couple hundred cases available next year. Beyond that, I'm sure we will be putting together some events that involve some mutated musicians and artists in the near future. At the last shin-dig I got to create and sling my own fancy pizzas. Maybe another venture on the horizon? Just what I need.
Cheers!
(images: clubbastardo.com, claypoolcellars.com, wine-blog.org)