Ok, peeps – just in time (and plenty of it) for the holidays, we've got another giveaway coming at ya!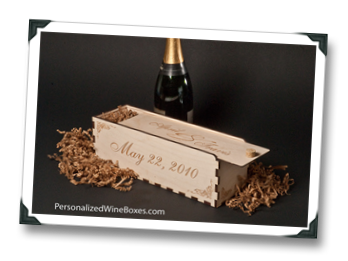 This week, one lucky commenter will be selected at random to win a pretty spiffy personalized wine gift box (a $45 retail value) from www.personalizedwineboxes.com!
Pictured at left, these wine gift boxes look pretty darn spiffy, and could make a very nice edition to your holiday gift list ( even if, like me, you primarily considered something like this a gift to yourself… you selfish little thing, you…).
Anyway…
Here's the deal: In one week, I will randomly select a winner from the comments who will be able to design their own personalized wine box! The only catch being that you need to live in the U.S. (I've also been asked to add the disclaimer "wine not included" – but if you couldn't figure that one out on your own then you have problems deeper than can be solved with wine alone).
Our comment topic? What's the coolest 'wine gift' you've ever received?  Shout 'em out!
To get us started here's my pick…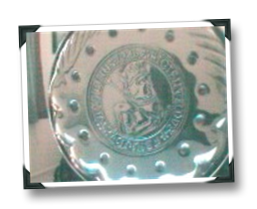 Back in 2002, I received a rather cool wine-related gift: a tastevin (purchased, I believe, in Georgetown).
A matter of (very) brief explanation: the tastevin is the (somewhat ancient-ish) tool used by sommeliers to taste wine in dark wine cellars; it was usually constructed from metal and worn about the neck with a chain.
In the case of my gift, there is a coin inside the basin (which is the focus of the old, crappy digital pics inset to the left and the right), dated 1484 (the reverse side has inscriptions in Latin and what appear to me to to be runes, though I've never had time to perform any serious research on what the hell all of those might signify).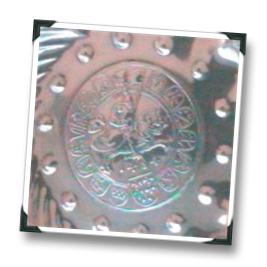 Of course, it's a matter of conjecture when the tastevin was made (or even if the coin is, in actuality, from 1484 or was created much later).
In other words, we don't know exactly where it's from, or quite when it was made, or even when the coin inside it was made, but for me all of that doesn't detract one iota from the absolute coolness factor of this thing.
And before you ask: No, I've never actually used it for its original, intended purpose (tasting wine in the dark)!
Cheers!
(image: personalizedwineboxes.com)