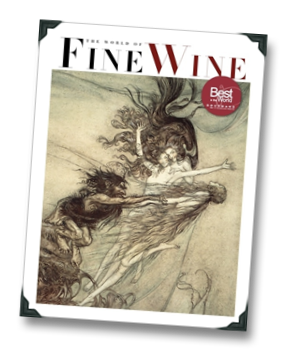 I receive quite a bit of wine for which I pay nothing.  I have never bothered to measure the volume of influx of wine samples to my door, but it is high enough that whenever the doorbell rings in the afternoon, my toddler daughter now exclaims "more boxes of wine, daddy!"
Generally this volume of samples means two things for me:
I cannot dream of complaining about the situation, even though it largely results in my basement storage space being taken up with shipping materials full bottles of wine that aren't necessarily very good; and
Whenever I receive a sample of something that isn't actually a bottle of wine, I take notice immediately.
So naturally, the sample copy of Issue 29 of the UK-based publication The World of Fine Wine I received recently really stood out, as did the letter of introduction from its editor, Neil Beckett (and not just because it was printed on A4 paper).  Here's what Neil wrote to me (I'm hoping he doesn't mind me reproducing it here):
"Some of my team here are followers of your site and we hoped you might like to see what we do in a rather more old-fashioned medium…"
That medium of course being a printed magazine, though calling The World of Fine Wine a magazine is a bit like calling the Bible a doorstop.  It's a gorgeous example of print, with stunning art reproductions and photography, and its 200+ pages put it more into the coffee-table-book species than what we in the U.S. customarily think of when asked to picture a wine magazine in our mind's eyes.  It also costs £30 per issue – or, roughly $170 for four issues.  Ouch!…
After reading through Issue #29, my humble assessment of The World of Fine Wine – which is probably influenced by the fact that its contributors (which include Hugh Johnson, Jancis Robinson, Oz Clarke, James Halliday, David Peppercorn, Serena Sutcliffe, Gerald Asher, Randall Grahm, Jeannie Cho Lee, Clive Coates, and Michael Broadbent) actually might read this website (holy crap!) – is that the publication is pretty much worth every penny for those who might be fed-up with the major wine magazine publications that currently dominate the U.S. market.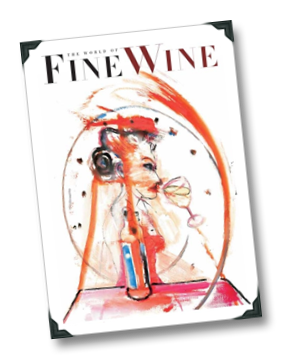 Nothing against those pubs, of course – they serve many a purpose in providing value to wine consumers of all levels – but The World of Fine Wine is just more… serious; through quality of writing that rivals the best in the world on any consumer / cultural topic, it's The New Yorker of wine mags.
"Check us out when you're ready," it seems to say, which is a nice British way telling us "we'll be here when you grow up."
Having said that, The World of Fine Wine isn't stuffy at all, and those that come away with that impression are probably giving it too superficial of a judgment – it simply makes assumptions about its readership, which is to say it assumes they're smart and that if a reader doesn't quite know what the author of any particular article is talking about at first, s/he will keep reading and enjoying and eventually will figure it out. In that way, it's University- and Masters-level reading for the budding wine geek.
In that way, it's like a breath of fresh air to someone who's been trapped for the last six weeks in a cave.
You don't need to take my word for it, though – their website offers free sample features for your perusal, which is really smart business, because when you read something like David White's lucid "outsider" take on the sad state of U.S. interstate wine shipping laws (it ought to be required reading for anyone who wants to offer opinion on the topic of the three-tier system), well, you're going to run the risk of being hooked.  The World of Fine Wine is the type of publication that doesn't need to be released more than four times a year, because it's going to take you three months to get through a single issue; and even then I suspect many people would keep the older issue around for reference later given that their writers are so f—king talented and have such deep expertise on their subjects.
All of which is only appropriate, I suspect, given its not-insubstantial price tag!
Cheers!
(images: finewinemag.com)