During the recent Wine Bloggers Conference in Santa Barbara, I performed one of the more self-serving actions of my entire life (and that's saying something, right there). During Corbett Barr's keynote speech, I clapped deliberately and loudly when Barr told the conference-goers that the wine blogging community needs to do more to work together and foster community. A few seconds of my obnoxious clapping got (more or less) the entire room applauding Barr's astute comment.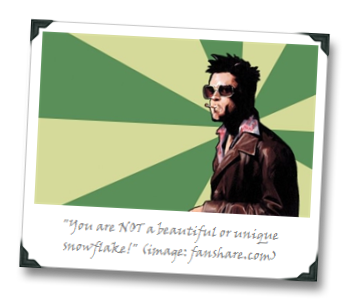 I label that as self-serving because Barr and I spent over an hour on the phone together prior to WBC14, discussing the current state of wine blogging, during which I pressed hard on the fact that too many wine bloggers view themselves as someone apart from the wine blogging community, and, like their wine print brethren, are too competitive and catty and need to share more in rising-tide-lifts-all-boats fashion.
I fear that, based on the blogging about WBC14 that has transpired since that speech, that much of Barr's wisdom fell on some deaf ears. While we've seen a handful of well-reasoned WBC14 criticism and balanced debate about topics such as the conference's Wine Writers Workshop session, we've seen a bit more carping about the conference not meeting expectations, and/or the speakers being too old, too white, too print, too out of touch, too whatever.
WTF?!?? Are you people out of your minds?!???
Folks, if you're blogging about wine and want to wine blogging to be taken more seriously, then let me tell you something about the state of your writing, and your approach to the wine blogging community: It's a joke…
Before you get to flaming me for that statement, remember this: I've almost certainly been a part of the wine blogging community longer than you have, and I almost certainly love it at least as much as you do.
Which is why I feel I have an experienced viewpoint when I ask: do you know why Wine Spectator laughs at our collective wine blogging asses? Because we are a joke of a community online, particularly when compared to our beer and spirits counterparts.
We online wine peeps need a f*cking intervention.
Let me dismiss some myths for us all; actually, let's use some modern American icons to do it for us:
"You are not a beautiful or unique snowflake" – Tyler Durden
Some of the wine bloggers reading this will feel that they are superior writers when compared to the lot of citizen wine bloggers making their way in the Global Interwebs, and some of them would be correct. But here's a message to those folks who view themselves as somehow a part removed from the wine blogging community:
GET OVER YOURSELF, DOOFUS! ALONE, YOU ARE A F*CKING ROUNDING ERROR!!!
I don't care how good you are, or influential you are, or how many wine reviews you have published, or if your sh*t indeed smell like 1958 Mosel Riesling, the fact remains the individual website traffic numbers for your wine blog on its own are laughable compared against sites like Wine Spectator or Wine Enthusiast; they probably don't even register as a discernible daily delta for those sites. It's like missing a couple of ants from an entire colony.
Acting like you are bigger than the wine blogging community in total (which is a formidable force in terms of any measure you want to use – influence, website traffic, etc.) serves only to make you look like a douchebag. Get with the program – we're all in this together, or we're not even in it at all.
"You don't have enough talent to win on talent alone!" – Herb Brooks
So, you're upset that three middle-aged white guys who are successful print wine writers told you that you're wine writing isn't perfect? Sorry, folks, guess what: YOUR WRITING ISN'T PERFECT. It's not even close to perfect. If Hemingway threw away rough drafts in disgust, then guess what? Nobody's writing is perfect.
I wasn't even at the WBC14 session in which Jim Conaway, Mike Dunne, and Steve Heimoff critiqued the wine writings of several conference attendees, and I can still tell you that discounting all of their feedback has got to be wrong.
The entire purpose of such a workshop is to show you what isn't so great about your writing; otherwise, that talent will stagnate like a pool of fourteen-year-old White Zinfandel. I cannot think of one example – not one – in the history of anything worthwhile in which ignoring improvement needs led to someone becoming kick-ass at what they were doing. Hell, even winning a freakin' video game involves identifying and overcoming blind spots and weakness; you think the craft of writing about a topic as interesting and tricky as wine is going to be easier than finishing Call Of Duty?!??
C'mon, we're better than that, folks.
As wine bloggers, we ought to be temporarily kissing the asses of Jim Conaway, Mike Dunne, and Steve Heimoff for sharing their experiences in the first place, and taking the time to kick our collective asses in that writing workshop, because I can tell you from firsthand experience that the print wine writing world is not a nurturing, take-the-promising-fledglings-under-our-wings-and-help-them-to-soar environment; it's more of a get-the-f*ck-out-of-my-nest-you-damn-kids! environment. So to have three successful print wine writers share their insights is kind of a minor miracle, and while we might have to mine their comments for the real nuggets, there will for sure be nuggets worth finding (assuming we're open to improvement).
I am NOT saying that you have to agree with every bit of feedback that those guys had; but I AM saying that you'd do well to listen to it, fairly contemplate it, and then decide for yourself which parts are relevant to you before dismissing them.
As for the WBC picking the "wrong" panelists for that feedback session: that's not a correct assessment of the situation, either. WBC did pick the right panelists. Fact: the wine print world is dominated by middle-aged white guys, so we should kind of expect some of the successful ones to be… middle-aged white guys! Surprise! Not!
Now, some of us (maybe many of us, including me, who is fast becoming a middle-aged white guy) will have trouble relating to those print guys; that's just natural. And, I'd argue, it's reflective of the situation plaguing wine media right now, which is a lag in the reflection of the true cultural diversity of the wine drinking public. You know who's job it is to change that situation?
Ours. Yours.
How? By banding together and helping one another to improve, innovate, and succeed. If we do that, we'll see more of our own become successful, we'll see further change in the wine media spheres, and it'll be their turns at the podium.
Put another way: Over the last few years, we wine bloggers have absolutely turned the wine media world onto its ear. Together, we are gaining power and influence every day, provided that we remain a united front.
How about showing the wine world that we know how to use that power for good?
Cheers!