Ok, so I probably need to explain the (relatively) recent twitter update by VisitPortugal.com involving an interview with me focusing on my take on Portuguese wines.
Below is the tweet in question, which takes you to the Facebook Notes page of We Love Portuguese Wines. [ Warning: The Portugal promotion connections get a lot more complicated from here, so if you're already as confused reading this as I was typing it, you might just want to pour yourself a glass of tasty vino and stop reading now. ]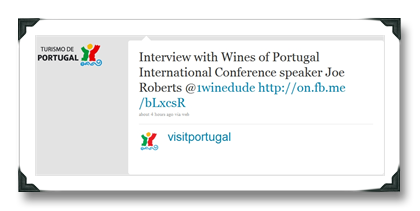 The most interesting aspect of this interview (for me) was that I didn't know it was an interview. I therefore had no idea that it would be published; my answers were part of an on-going conversation with Vini Portugal regarding my participation in the upcoming 2010 Wines of Portugal International Conference in Oporto this December.  For those of you who are counting, this brings the number of seemingly-related Portuguese-promoting on-line properties to (at least) four.
I don't mind at all that the questions I answered for Vini Portugal were used by VisitPortugal.com on the Facebook property We Love Portuguese Wines to help promote the WoPIC.  Or, I don't think I'd mind if I could keep track of all of this.
I need a beer!…
Fittingly (given the somewhat confusing proliferation of Portugal-promoting web properties), I'll be part of a panel this week at the WoPIC titled "Internet Wine Revolution" – and I'll be in some great company, being joined by Robert McIntosh (who I last hung out with some time ago in Windsor), Louise Hurren, adegga.com's Andre Ribeirinho, Neal Martin, and some angry young guy called Ryan Opaz ;-).
I'm also looking forward to re-connecting with folks who will be part of WoPIC but not part of that panel, particularly Emperor of Wine author Elin McCoy (who I met in Santorini earlier this year).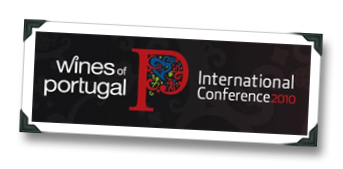 Anyway, despite the confusing array of social media / website properties that seem to be promoting the conference, I'm excited to be attending and speaking. Personally, I can't imagine the majority of budding wine geeks out there would choose to have 4+ websites to check out for conference happenings, though I do appreciate that cross-promotion among sites that already have different audiences is a good thing. I'll get over it.  Eventually.
What I haven't managed to get over yet is my confusion as to why Touriga Nacional is being touted as the Portuguese grape variety as part of the conference.  It's certainly a grape variety capable of making great wine, even legendary wine – especially as a primary ingredient in Port – but I'm not sure as a consumer I care so much about it, especially when it reaches its loftiest of wine heights as part of the art of blending.  Personally, I think Portuguese producers could get more mileage out of using social media to find out what wine consumers want to get out of Portugal, rather than telling them that they ought to be drinking Touriga…
Anyway… in the WoPIC welcome message from Francisco Borba (ViniPortugal's President), the WoPIC seems by-and-large to be focused on the wine industry, in a "circling the wagons" style call to bring together the Portuguese wine business:
"We intend it to be the biggest international debate about Portuguese Wines. The best experts and the most recognized national and international opinion formers, as speakers and coordinators, will participate in the different conference themes."
Based on the conference program, they're off to the right start – I'm pretty sure I'll be glued to Jancis Robinson's talk on Wines of Portugal Challenges & Opportunities, for example – but I'm also still trying to get my head around being considered enough of a thought leader ("most recognized national and international opinion formers?" Me?  WTF?!??) in the wine / Internet / social media space to have been invited.
Going pro, indeed…
I've got no idea how any of this will turn out, but I'm pretty sure you'll get lots of coverage of the good, bad, and ugly right here in the coming days and weeks.  Probably more like weeks, since I have a toddler at home.
Now if you'll excuse me, I've got a plane to catch, and some serious wood-shedding to do if I'm going to fake it well enough to keep up with the raw talent of the other members on that panel…
Cheers!
(images: winesofportugalconference.com, twitter.com)