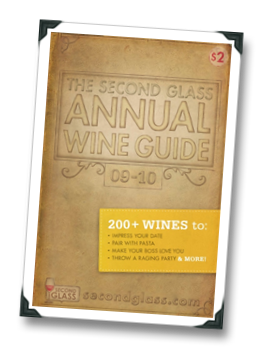 The Second Glass is kicking some ass.
The Boston-area stalwarts just released their Annual Wine Guide for 2010, and it's an impressive 'cheat sheet' view of high QPR wine selections.
I'm not sure how they selected the wines that made the final cut to be highlighted in the buying guide, and not all of the selections are blow-your-mind good, but I'm impressed with some of the wines that were included (S.A. Prum Essence Riesling, anyone?).  The guide is organized by country / region, and you will learn a bit about the wine production and culture for each of the included countries, so it's not just a list of budget-oriented wine picks.
I especially liked how they highlighted some of the value-producing and fast-improving regions of Spain (Jumilla, Yecla), didn't shun Austria, and were bold enough to offer up Chenin Blanc recommendations from Clarksburg in California.  The guide finishes with the selections indexed by potential purpose ("Turkey Wine," "Winter Warmer," and my personal favorite, "Panty Remover.")
All in all, it's 40+ pages of wine goodness.
A printed copy will run you all of $2.00 – if you're too cheap for that, you can browse the entire contents on-line.
Hats-off to the Second Glass team for this handy guide – they've outdone similar offerings that run for a hell of a lot more money.
Got a favorite wine guide?  Let's hear about 'em in the comments!
Cheers!
(images: thesecondglass.com)