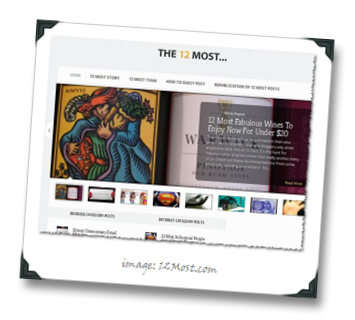 The Riesling Doctor is most certainly IN, and his rates are dirt cheap.
So goes the thinking (and tendency towards terrible, terrible puns) behind my contribution to an article titled "12 Most Fabulous Wines To Enjoy Now For Under $20," coordinated by my friend Marie Payton and published at the popular site 12Most.com last week.
Marie asked me (along with a few other wine bloggers – check out the link for their groovy selections) to chime in and provide a pick for her wrap-up, the only conditions being that the wine had to be in fairly wide distribution and (obviously) cost under $20. Here's a bit more info. on my selection, and the source of the (terrible) pun, and why I'm saying controversial shizz like Riesling kicks Cabernet's butt…

2010 Loosen Bros. "Dr.L" Riesling (Mosel)
Price: $12
Rating: B
I'm kind of smitten with this wine. It's not perfect, for sure, but I struggle to think of an example that offers a better introduction to a storied wine region for this kind of price. Sure, I'm fanboy when it comes to Mosel Riesling, but I not so much that I can't call it like I see it when a producer gets it wrong, and Loosen Bros. in this case did not get it wrong. It's dominated by citrus and stone fruits, has decent balance between its sweet and acidic sides, but most importantly gives some of the spice, minerality and flower action that (for me) make the Mosel special and identify it as the (ahem) spiritual home of Riesling and (arguably) the place where the Earth's best wines are made.
Yes, often "better" (in terms of balance, complexity and longevity) than those killer Cabernet Sauvignon blends that cost five times as much – and by the way, in many cases they will age more gracefully and for longer periods of time than most of those vaunted Cab-based wines, too, including Bordeaux… go ahead, flame me but I'm NOT backing down. For wines under $30, even fairly pedestrian Kabinett Rieslings can (and will) go the distance, and run circles around Cabs at the same price years and years down the road. In fact, the more wines I taste, and the older the wines I taste, the more I grow increasingly convinced that this is the vinous truth.
It's not that Cabs aren't amazing when they're done right – far from it. It's just that, for my money, Riesling is going to get you more bang for your buck, and the best Mosel Rieslings are going to potentially be banging for many a decade.
I am not saying that Dr. L. will do that, by the way – sh*t, what are expecting for $12? – but I am saying that it kicks the crap out of most under $20 Cabs out there. If you balk at laying out $40 for a primo bottling of Mosel Riesling, then a taste of the Dr. L. should help you determine if diving into the more expensive deep end of the German Riesling pool is for you.
Cheers!