We continue to live by the motto "Go Big Or Go Home" when it comes to guests for The Punch Down show (if you missed March's guest – Gary Vaynerchuk, finally coming back to talk about wine – then get your butt to the video and get caught up), and it's with great pleasure that we will host wine industry icon Jancis Robinson for Episode Four next week, April 2 at 1PM ET!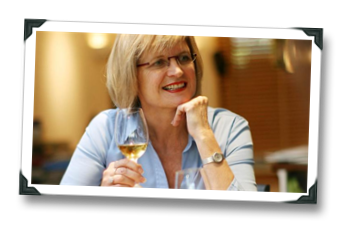 A Master of Wine since 1984, Jancis has authored over 25 books on wine, including The Oxford Companion to Wine (the hefty text that serves as the number one resource for WSET Diploma students), and the more recent (but equally weighty) tome, Wine Grapes – A complete guide to 1,368 vine varieties, including their origins and flavours.
Jancis has garnered nearly as many awards as there are grape varieties profiled in her latest book – she was Decanter Magazine Woman of the Year (UK) in 1999, won the Grand Award at the Society of Wine Educators in Sacramento in 2009, and in 2011 was voted third most powerful person in wine by Decanter.com.
I've had the pleasure of hanging out with Jancis a bit, and I think the best way to give you a glimpse into her personality is to recount the exchange we had when we first met (at an event in Portugal a couple of years ago; you know, in the time before Interest). It sent something like this: Jancis walked up to me and said: "Hello! I had to introduce myself, you're 'The Dude,' aren't you?" To which I replied, "Ohhhh, no, that is not how this introduction is going down. You're awesome, and I'm just a bug!"
Jancis could probably be forgiven if she decided to put on airs and offer ivory tower pronouncements about what wines we all ought to be buying. She's taken exactly the opposite approach, however, embracing social media full-tilt and engaging with wine lovers directly in two-way on-line dialog, as well as pouring much of her efforts into her online presence at JancisRobinson.com.
So… think we'll have much to talk about? Follow along at https://www.1winedude.com/thepunchdown/ for details, and as always hit us up with questions beforehand.
See you on April 2!
Cheers!