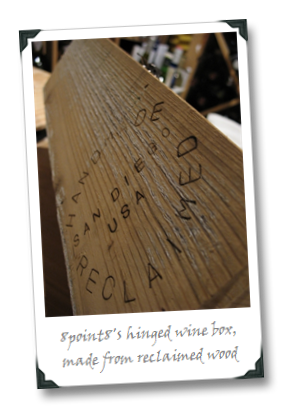 An interesting set of sample items found their way to my door recently.  Not wine, but wood.
The wood (or rather what's been done to the wood) is the brainchild of Brian Behncke, a construction company owner who is in the process of starting up a wood reuse company in San Diego.  The idea is to reclaim cedar fencing wood that would otherwise be on its way to the Mira Mar landfill, and instead turn it into handmade, interesting but functional discussion pieces, with wine as one of the major themes.
According to Brian:
"Due to the cost of taking the nails out of the wood, it goes directly into the landfill. Although it takes a little more time to clean the wood up, we feel this is a small price to pay for keeping large quantities of useable wood out of the landfill. We know there is a more sustainable way to deal with the problem, and that is to repurpose it."
Brian's new endeavor, 8point8, is currently selling unique takes on wine storage, carrying cases, and other household items.  The designs overall are functional, fun, and (at times) striking – especially the angled 3-bottle displays, which I personally found perfect for my leftover Madeira (see pic below – and yes, that is still the same Madeira from nearly two years ago – I told you, that stuff is indestructible!)…
8point8 is well worth a look, especially when you're shopping for the wine geek who's already got all the wine gadgets and needs a serious intervention back to low-tech.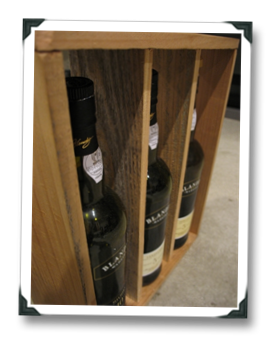 Cheers!