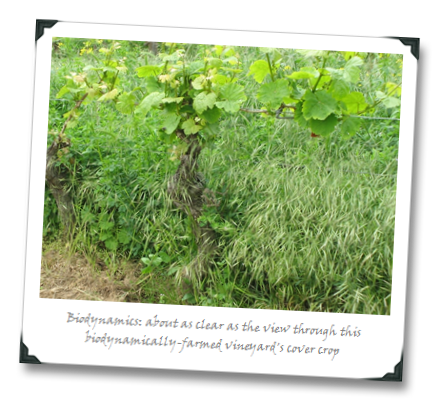 Over the past two weeks, I've posted podcast interviews with leading voices on both sides of the debate over the merits of biodynamic viticulture (if you're interested in why I chose to tackle the BioD topic in this way, read the backdrop story line for the interviews).
On the "Pro" side, we've heard from International viticulture consultant Alan York.
On the "Con" side, BiodynamicsIsAHoax.com author Stu Smith has had his say.
Now that the views of both camps have been aired, it's time to ante-up, slap the cards down on the table of philosophical vinous clarity, and voice some opinions.  What conclusions should we draw from the BioD debate, and what opinions have been shaped by the voices of Alan and Stu?
Does "ongoing confusion" count as a valid answer to that question?…
Obviously, the interviews previously featured here don't provide the final word on either side of the debate over biodynamic viticulture's merits.  Nothing could provide a definitive, succinct "wrap-up" for a topic that possess so much emotional, philosophical and scientific baggage, depth and diversity.  But I think that some conclusions can indeed be made – and some lines, pro and con, can indeed be drawn – as a result of the recent interviews with Alan and Stu.
I'm a tolerant centrist at heart, but on the matter of Biodynamics I'm a hopeful skeptic. Here's why:
BioD's founder, Rudolf Steiner, can most politely be described as an eccentric ("total kook" might be more apt) but just because some of his ideas were borderline insane doesn't mean that they all are wacked-out; but it does mean we need to approach Steiner's ideas with the requisite amount of skepticism befitting someone who once said that the race of people from the lost city of Atlantis could fly using the power of burned seeds.  In other words, he might just have gotten it right with BioD, but what are the odds?  Would you take that bet in Vegas?
On the plus side, BioD gets people into the vineyard, thinking about how to treat the land sustainably while also minimizing vinicultural trickery in the making of the final product.  It promotes a holistic view of the entire winegrowing and winemaking process, and rare is the case when taking the holistic route doesn't benefit all involved.  And it can result in some stellar wines.
But the scientific evidence to back up all aspects of BioD is lacking, and the claim that it is beyond science is, to me, specious reasoning that puts BioD in the realm of the religious, and one shouldn't have to get certified to follow a religion.  If we take a "let them do what they want, it doesn't hurt anybody" approach (which was my previous going-in position before conducting these interviews) then we may, in fact, be turning too much of a blind eye to the preparations and processes in BioD that might actually be harmful to the environment (for more on that, listen to my interview with Stu Smith).
For my money, I'd like to see a "spin-off" of BioD (or something similar) based on organic farming principles, but backed up by scientific study of the results of each of its component parts, and with the option of becoming certified in subsets where viticulturists can choose those aspects of BioD that make the most sense to them and and are proven to be sustainable without possibly being harmful to people and wildlife.  Demeter – I hope you are listening, because your current standards don't allow that and (I'd argue) aren't specific enough!
I realize that's a tall order, but no one is saying that it can't be done gradually, in steps, and in conjunction with scientific research.  It would, however, take investment – but if it increases the potential pool of grapegrowers willing to get certified, then the investment might be worth it for companies like Demter (or, at least worth researching further to see if there's a justifiable market within the wine industry to support it).  I'm not saying my suggestion is the best or only solution to bridging the gap between BioD supporters and detractors; I'm just saying that it would be a welcome change from the current all-or-nothing certification stance and general lack of supporting scientific evidence for BioD.  Sophomoric? Maybe, but hey, I'm an idea guy, alright?
How about YOU?  Any revelations, pro or con, about BioD from these recent interviews?  shout 'em out!
Cheers!