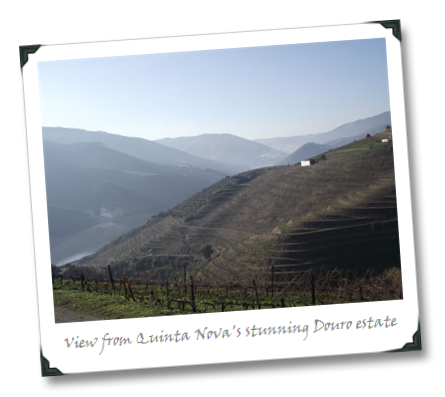 No matter how far one travels in the wine world, there is no respite from the rampant abuse of the 100-point wine rating system.
The harsh reality of this fact was driven home to me while visiting the (relatively new, at least when it comes to their modern table wines) Cima Corgo producer Quinta Nova de Nossa Senhora do Carmo during my recent sojourn to Portuguese wine country (while the vineyards have been long-standing and the location making wine since the mid 1700s, the modern winery was built in April 2003).
Quinta Nova's rather long name is the odd result of a merger of sorts; from the QuintaNova.com website:
"The name 'Quinta Nova' (meaning new farm) was the name given to the new Quinta after the two Quintas were joined together. Nossa Senhora do Carmo is the patron saint of the seventeenth century chapel on the margin of the Douro River. In this particularly dangerous bend of the river, the crew of the Rabelo boats would stop at the chapel to beg protection from their patron saint before carrying on down the river."
In their efforts to get their table wines a bit of market share outside of their Portuguese home base, it seems that Quinta Nova could use some assistance from their canonized namesake – because the abuse of the 100 point system, which has led to what have to be some of the laziest business practices in modern history, is making their journey into the world wine market a treacherous one indeed…
During my visit to Quinta Nova's stunning estate (you can sleep there, by the way, and you'd have fewer places with a better view to wake up to), I (with a group of other Wines of Portugal Conference participants) was treated to lunch with some of the winery's team members.  Over plates of sausage, soup, and other excellent examples of regional Douro cuisine, I asked one of the team members sitting next to me how they are faring in International wine markets like Asia and the U.S.
Her answer (which I will quote anonymously) was almost enough to make me want to hurl my lunch, as it (her answer, not the lunch) speaks poignantly to the depths of laziness that the abuse of the 100 point wine rating system has created in the global wine marketplace:
"It's very hard for us. In China and Japan, if I call importers and distributors to make ten appointments, at least six or seven of those will ask 'what are your Robert Parker scores?' I have to tell them, 'some of our wines are quite new, only a few vintages, we do not have any Robert Parker scores.'  And then they say 'okay, we will have no meeting then, goodbye.'"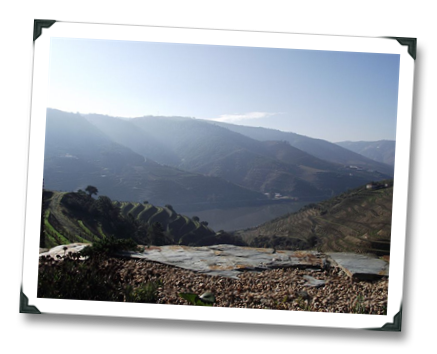 Quinta Nova doesn't lack Parker scores because their wines suck – in fact, some of them, like the smoky and red-fruit-filled 2008 Reserva Douro Red are very good; and others, like the true field-blend 2008 REFerencia Grande Reserva Red are downright classy, brooding, and excellent, full of dark fruits and complexity. Their wines lack Parker scores because it's simply impossible for every bottling of wine to be reviewed – by Parker, Wine Spectator, or anybody. Getting a review from Parker, Spectator or anyone else is an issue facing many, many wine brands even in the U.S., let alone a Douro producer trying to crack the Asian or U.S. markets.
The fact that a majority of the distributors/importers with whom this Quinta Nova team member spoke would reject meeting with them on the basis of their brand not yet being lucky enough to get on any particular review list tells us a lot about what those distributors/importers think about the wine business and about their customers. I imagine what's going through their small brains is something like this:
Wine is a commodity, and it doesn't matter what I sell to my customers because they won't know the difference anyway.
People will simply buy wine based on the highest point value we can slap on it. They are sheep and their personal tastes and preferences don't matter because they don't know any better anyway – and never will (and we like it that way).
F—k the future market, f—k empowering and educating consumers to make more informed choices while building lifelong loyalty to our businesses and the brands we work with, I just want to make some money

now

.
If reading that makes you sick, do not be alarmed – it indicates only that you are still sane.
I am not saying here that the 100 point system is totally bogus – what I am saying here is that the abuse of the 100 point system by the entire wine marketing chain has caused large parts of that chain to no longer give a shit. That is sad, it's insulting to consumers, and it has to change because it's not a sustainable business model.  At least in the U.S. market, the days of treating consumers like sheep are numbered – that is a generational movement that is happening irrespective of any one industry.
Will the younger consumers in Asia follow suit?  I sure hope so.
And if the situation doesn't change, it sure as hell won't be for my lack of tryin'!
There is a silver lining to the dark cloud I've painted above, however: there are a growing number of independent distributors/importers in the U.S. who, while quite small, have heard the clarion call of changing marketing preferences from Millenials and are upping their game – actively seeking out interesting wines and taking the more difficult (but in the long run, probably more lucrative and rewarding) road of downplaying points and using them as they were meant to be used (as part of a larger whole of introducing a wine experience to consumers).  It's far from lazy – in fact, it's hard work – but it's ultimately better for consumers and should be better for their businesses as a result.
In fact, one of those people was sitting with me at the lunch table at Quinta Nova – His name is Wynn Pennington (brother to TV celebrity Ty Pennington), and he's an importer in Atlanta.  What does Wynn say to customers ask him about point scores?
"I tell them, 'well, I don't know the score or even if this has a score, but it's good and it's interesting, and you should try it. And if you like it, then you're probably going to get your customers to like it if you get them to try it.'"
Hope, as they say, springs eternal.
And while it may be a bit naive to be encouraged by that small glimmer of hope, I'll take it over the lazy man's load any day of the week.  Maybe, just maybe, Nossa Senhora do Carmo is listening to that prayer after all…
Cheers!