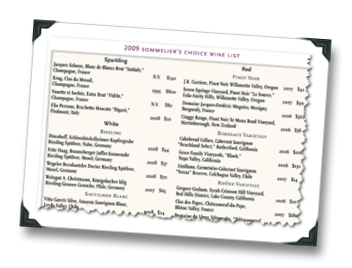 In its December 2009 issue, the fine wine industry mag Sommelier Journal decided to take an interesting and unique angle on the 'year end wine recap.'
Instead of compiling a year-end best-of list, Editor David Vogels asked a hand-selected group (consisting primarily of wine directors, sommeliers and other wine pros) to contribute what they thought to be the most memorable wine they'd tasted in 2009.  The only restrictions: the wine had to be available in the U.S., and the contributor shouldn't be commercially representing the wine in any way.
It's a novel and very entertaining way to recap another year in vino.  The result is presented in the December issue as a 40 selection wine list (along with tasting notes), divvied into Sparkling, White, Rose, Red, and Dessert categories.
The prices of the chosen wines tells us some interesting things about how wine pros view the wine world.  The average price of a wine on that list?
$97.18.
Holy crap!..
And while just over ninety-seven beans might be the average, a cool $100 won't even get you a bottle of eight of those selections, and all but eleven of the selections are priced over $30.  I just don't see too many people ordering up whole bottles of this wine list in today's economic climate.
To be fair, there are a handful of outliers that are pushing the average way up (in particular a $560 Burgundy, a $500 Tokaji, and an $800 bubbly) – ordering those with a three-course meal would set you back a mere $1860!  The largest area of bargains seem to be the whites, where an average price of $41.93 can get you a memorable wine experience.
What does this list tell us?
Well, it tells me that while bargain wines are easy to come by, the pros don't find the experience delivered by those bargains to be all that memorable.  Which could be due in part to price bias, but probably is equally influenced by what many people see as the trend of bargain wines to be made to taste like one another – i.e., not unique and therefore, presumably, not very memorable.
There are real bargains to be found on this fictitious list, however:
The cheapest selection (at a very affordable $14) was supplied by fellow 2010 Wine Writers Symposium attendee Patricia Savoie – Emiliana's 2007 Carménère-Cabernet Sauvignon Novas Reserve from Chile.
Michael Meagher, the Boston Sommelier Society Chairman, was a homer and selected the local 2007 Westport Rivers Chardonnay, (Massachusetts) at $16.
I don't know about you, but I'd dish out $15 for the `07 Quinta do Crasto Douro red blend, based on Walt Disney World's Kristie Jones' description as being able to "satisfy Cabernet fans, Syrah lovers, and Malbec groupies" (sounds like a crowd-pleaser to me).
Got a take on memorable wines (cheap or otherwise)?  Let's hear it!
Cheers!
(images: sommelierjournal.com)