What wine would you buy right now if you had $500 to spend on it?
I mean, let's say you were given $500 cash, right now, and told the only condition upon receiving it was that you had to spend that money on wine, and you had to buy it right now.
What would you buy?
I've been thinking about this question for days and days, and it's made me curious as to how the intelligent, witty, and better-than-average-looking 1WineDude.com readership would answer it.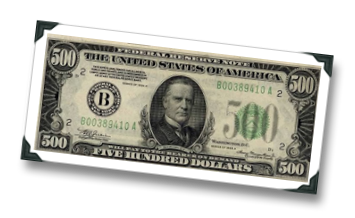 Do you blow the whole wad on one wine, like a very-good-but-not-great vintage of Chateau Petrus, just to say t hat you did it at least once? Or go for two bottles of a classified Right Bank Bordeaux?  How about dabbling in a little high-end Burgundy?  Or take a dessert wine tour of the world, through Porto, Madeira, Hungary, Sauternes, Niagara, Jerez…?  Or a bargain-end binge shopping spree, stocking up on fairly-priced wines
It's a compelling proposition, isn't it?
Here's the part that will start to bake your noodle:
Once you've decided on an answer… ask yourself Why haven't I bought myself that wine already?  Is it because $500 isn't exactly small change in today's crappy economy?  Catholic guilt preventing you from spending that kind of money on yourself?
I think reading each others' responses to these questions would be fascinating.
I'll kick things off – I'd blow the whole wad on one wine, the kind of cultish wine like Petrus that is supposed to blow your mind, just to see if it can really live up to the stratospheric hype factor.
How about YOU?
Cheers!