This is a tourney several years in the making.
I first had the idea of having a "Taste-Off" – a March Madness tournament-style tasting of sixteen wines, randomly matched against one another, and proceeding in a single-elimination tasting against one another over the same day until one is crowned "champion"– back in 2008.
It's taken me this long to get around to it, inspired in part by the facts that a) we've had an exciting NCAA tourney this year, b) simply having a free day in which to do it, and c) having the personal realization that I had sixteen different California Petite Sirah samples (none of the poor things knowing what was in store for them) sitting in the bowels of my cellar and therefore could actually pull it off. Also, I had a pretty sh*tty week and just needed a fun escape.
Why Petite Sirah? It just felt right. It's a divisive wine, usually eliciting either intense devotion or complete hatred hatred – and as a result, it's a variety that tends to get less press coverage than a Xylophonist convention.
How it went down: Sixteen different CA Petite Sirah wines were randomly assigned numbers, which were then randomly matched into a field of sixteen, single-elimination tourney bracket-style. The winner of each bracket went on to face the winner of the next, with the losers being eliminated. This means that a) it's possible for mismatches, just like in a real tournament – and there certainly were some of those! – and b) some really good wines didn't get to compete against one another. A wine advanced if, at the moments I tasted it, it seemed a better, more complete, well-crafted, more complex wine; and yes, that means that a wine not tasting well on the given day was at a disadvantage – no different than any other wine competition (or competition of any kind, for that matter!).
That's the nature of single-elimination tourneys, people: it's not entirely fair; too friggin' bad; deal with it and let's have some fun!
Over the course of this week, I'm going to feature the results of the tourney, revealing the "champion" on Thursday and highlighting the two finalists. Mini-reviews will post this coming Monday and will include any wine in the lineup not already reviewed in the minis. So if you're not into PS, this is not  the week for you to be checking out 1WD. If you're curious or already a PS lover, then read on!…
Here's the bracket with the results of the first round (from sweet sixteen to elite eight), and following are short recaps of each "battle" with my notes and explanations of who won (and why).
A caveat: The wines were not tasted blind because it became too much of a pain in the ass to execute that alone, and as far as I know nobody's job is on the line based on the results… so blind-tasting purists, please remain calm.
On to the battles!…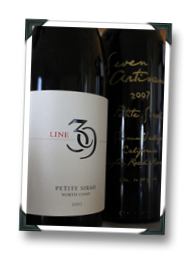 "By The Numbers": 2007 Line 39 Petite Sirah (North Coast, $10) vs. 2007 Seven Artisans Clayton Road Ranches Vineyard Petite Sirah (Suisun Valley, $18)
This was an entertaining fight that I wouldn't have predicted based on the price-points. Probably the coolest, most exciting battle in the first round, actually. Line 39 came to the court with funky, leathery, spicy dark berry and plum swagger. It gave the grippy, complex, and fruit-pure Seven Artisans a run for its money. But in the end, complexity won out over the swagger, though Line 39's crazy-good QPR earned a round of applause from me; and from my dog, if you count snoring as applause.
Winner: 2007 Seven Artisans – but not by much!
The Battle For Lodi: 2009 Vinedos Aurora Petite Sirah (Lodi, $21) vs. 2007 Windmill Petite Sirah (Lodi, $12)
It wasn't that much of a battle, actually. The Windmill is a pleasant, meaty, spicy wine, lots of fruit and a touch of minerality, and certainly worth its price. But Vinedos brought a lot more texture, poise and earthy, meaty game to this – too much for our Windmilling friend.
Winner: 2009 Vinedos Aurora (by a relatively comfortable margin).
The Up-and-Comers?: 2007 Clayhouse Petite Sirah (Paso Robles, $23) vs. 2006 Marr "Cuvee Patrick" Petite Sirah (Tehama County, $18)
A potentially intriguing matchup between two of CA's relatively lesser-known winemaking areas. Marr was marred with a lack of texture in the mouthfeel, and just felt off of its game, relying too much on grip. That didn't match Clayhouse's more multi-faceted game, which had pretty florals and bright acidic lift, though it should be fearing the future rounds based on some mouthfeel shortcomings of its own.
Winner: Clayhouse pulls it through, though slightly battered.
Heated Rivalry, Revisited: 2007 Stanton Vineyards Petite Sirah (St. Helena, $40) vs. 2009 Foppiano "Lot 96" Petite Sirah (Sonoma County, $12)
Napa. Sonoma. They respect one another, but still carry great enmity towards each other, and they're not afraid to let everyone know it (okay, not really, but run with it, people). A battle for the ages? Hardly, in this case. Lot 96 is pretty, earthy, and bright, even a touch floral. But too much fanciness without enough fundamentals hurts them on the court against the complexity, power and balanced heft of its larger opponent, Stanton.
Winner: Stanton easily hands Lot 96 the defeat and moves on to the next round.
The Battle For Northern (CA) Supremacy: 2007 Draconis "Classic" Petite Sirah (Lodi, $30) vs. 2007 Artezin Petite Sirah (Mendocino County, $25)
This contest would have the fans (ok, fan) on the edge of his seat, with the lead changing hands minute-by-minute as each opponent developed in the glass over the course of the bout. Artezin: funky, with sweet plums, smoked meats, vanilla and a refined, silky mouthfeel. Draconis: complex, brooding, bright with grip and violets and internal tension. Eventually, the grit and tension won the day.
Winner: Draconis in a memorable fight that offered plenty for the highlight reels.
Showdown At The Highly-Glossed Bottle Corral: 2009 Frank Family Vineyards SJ Vineyard Reserve Petite Sirah (Napa Valley, $65) vs. 2007 August Briggs Petite Sirah (Napa Valley, $38)
The Land Of Lofty Price Points produces two contenders with their eyes set on the final prize. Both have pedigree and the goods to potentially go all the way, but only one of these powerhouses can move on. The August Briggs is superb: rocky, earthy, plummy, with notes of leather and intense chocolate and structure. But Frank brings that and more; its intense, but with a lilting violet character floating above all that heftiness.
Winner: Frank Family Vineyards and it's NOT fooling around, people.
"QPR TKO?": 2007 Huntington CA Series Petite Sirah (CA, $14) vs. 2007 Redtree Petite Sirah (CA, $8)
The welterweights take on each other and the results are not pretty. There's something cloying about the vanilla and plummy fruit of the Redtree, and Huntington goes meaty, with good grip, but not a whole lot else.
Winner: Huntington – but not looking like a champion contender.
"David Meets Goliath," Or "Cakewalk 2012?": 2006 Cupcake Petite Sirah (Central Coast, $14) vs. 2006 Robert Biale "Royal Punishers" Petite Sirah (Napa Valley, $40)
More like "Cakewalk," I'm afraid: Cupcake lived up to its namesake, but not in a good way, and was out-matched right from the get-go with its chocolaty – but ultimately kind of tiring – effort. Biale cruised past this round with its meaty profile, depth and silkiness.
Winner: Robert Biale "Royal Punishers" lays down the punishment, and makes the Cupcake look like… well… a cupcake.
Tomorrow: the results of the Elite Eight and Final Four match-ups!
Cheers!