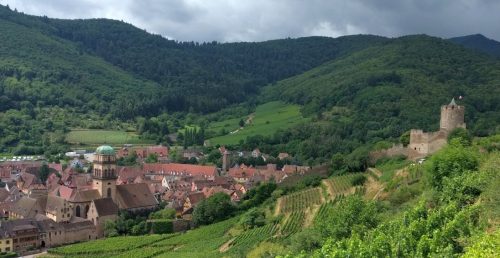 When you're within spitting distance of Kayserberg (quite literally the cutest town in France, an honor it was officially awarded in 2017), amid the picturesque shadows of a castle that dates back to the fourteenth Century (and in which harvests were celebrated), and regularly run into ruins from the early 700s AD, you might justifiably consider yourself in a sort of Western European daydream-like fantasy land. Just add fairies and elves!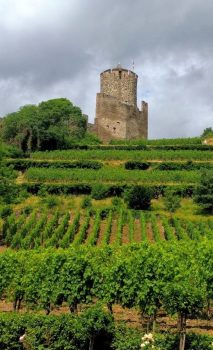 While that is, indeed, the present situation of Alsace's Schlossberg Grand Cru vineyard site and the sixty-some-odd producers who farm it (a spot I visited as part of a media jaunt earlier this year), that present situation belies a more, well, aggressive historical backdrop.
This granitic area of northeastern France has seen a revolving door of historical overlords, including the Romans, Germans, and the French. And yes, Schlossberg has the distinction of being awarded one of Alsace's first Grand Cru classifications in 1975, but that was almost fifty years later than planned (they attempted it first in 1928, but things got sidetracked due to a World War). Actually, it's almost 500 years late, considering that the area's vines have been known as having serious vinous potential since the 1400s, and that the area exported twice as much wine in the Middle Ages as it does now.
Also consider that, from a farming perspective, you're not getting much more than grapes here. The area sits on steep slopes rising up to almost 400 meters, and (thanks to the Vosges mountains) sees less than 500 millimeters of rainfall per year (which about three times less than Bordeaux). Alsace sits on the largest underground water reserve in the country, but irrigation isn't permitted, so the vines have to work their roots down deep to get a drink.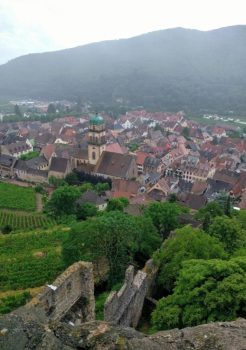 The soil in Schlossberg has high pH levels, and so requires calcium to prevent toxicity, and its diversity is a testament to the violence of the ancient Devonian forces that formed it. Also, you need dry stone terraces (the work of Italian immigrants hired by regional monks in the Middle Ages) to keep everything in place, and they are, to put it mildly, a pain in the ass to maintain. Oh, and the climate is semi-continental, which means they get nearly the full extremes in seasonal variation, and the subsequent farming headache potential.
Finally, we should include the political and cultural vagaries that come with producing consumables in a place that has changed country of ownership more than a few times. Alsace's major market, historically, has been Germany, since the French kind of considered Alsace as French-but-maybe-not-really.
How does all of this impact the Rieslings crafted from Schlossberg's soils? More than one of the wine producers with whom I met described their Riesling as "thin, delicate, and like a marathon man." You'll understand what they mean in a minute or two…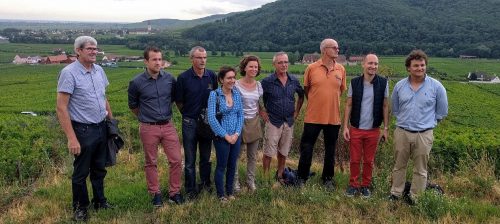 2013 Domaine Jean-Marc Bernhard Riesling Schlossberg (Alsace Grand Cru, $NA)
Formerly Swiss merchants, these guys have roots in Alsace dating back to 1802, and now farm 11 hectares of vines across six different Alsace GC sites. The Schlossberg holdings were planted in 1980. Their 2013 Riesling is the very definition of lean-and-focused; apricots, white flowers, wet stones, saline, limes, lemon rind, exotic fruits… apparently, it's also the very definition of complex. Texturally, it's also far from a let-down: pithy, tart, sinewy, linear, and above all else, lovely.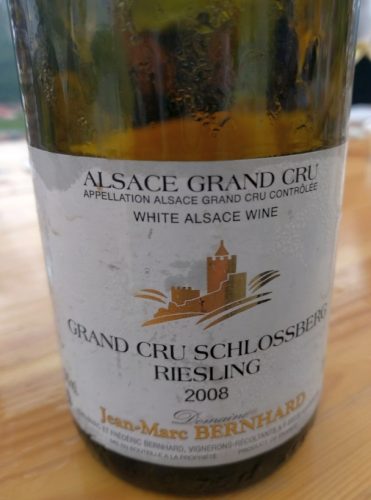 2008 Domaine Jean-Marc Bernhard Riesling Schlossberg (Alsace Grand Cru, $NA)
The JMB 2008 Riesling deserves a special mention, if only to provide a time-capsule insight into the aging potential of Rieslings from the 'berg. Its kinship with the 2013 is evident in its lemony, mineral, pithy focus. Where it departs from its more youthful sister-wine is in the flinty, toasty, and honeyed layers of gorgeousness.

2008 Albert Mann Riesling Schlossberg (Alsace Grand Cru, $45)
Twenty-two hectares of vineyards are farmed across five Grand Crus by Albert Mann, whose son-in-law Maurice Barthelme summed up their approach thusly during my visit: "sugar is like the 'tannin' for these wines." You'll barely feel the sweetness in this flinty, delicate, fresh, and floral Riesling, which is full of quince and citrus notes. Despite its litheness, at nearly ten years, it feels young, damn nearly too young to drink now. Lest you think the 2008 was a one-off stroke of luck, we also tasted the 2006, which was even less open, just as gorgeously pithy, and still pretty much a baby in a bottle.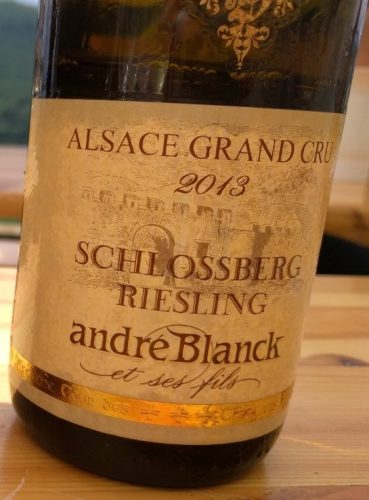 2013 Andre Blanck Riesling Schlossberg (Alsace Grand Cru, $NA)
Quinten Blanck has been the winegrower for these guys for only the last five years, but he is the eighth generation of Blanck family members to take up that helm. They farm only two hectares in Schlossberg, and from it craft a Riesling with an  acid backbone that is both deep and aggressive. There's a delicate touch to the mouthfeel of this mineral, citric, floral, and flinty white, which finishes very long with toast notes, and will instill in you a hankering for shellfish.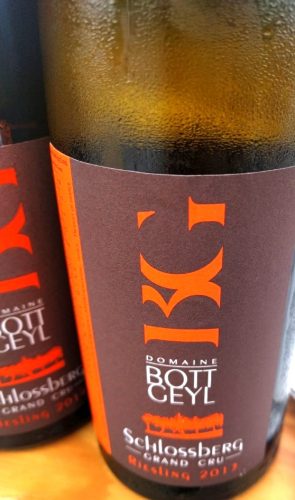 2013 Domaine Bott-Geyl Riesling Schlossberg (Alsace Grand Cru, $40)
Family-run, with fifteen hectares across six of the Alsatian GCs, Bott-Geyl prefers slow, whole-bunch pressing, which adds a pleasant, tangy astringency to their Rieslings. Case in point is their golden-hued 2013 Schlossberg, which offers up quince and citrus to start, then flint and saline, followed by honey and toast. Underpinning it all is a sort of crystalline elegance that is, in a word, beguiling.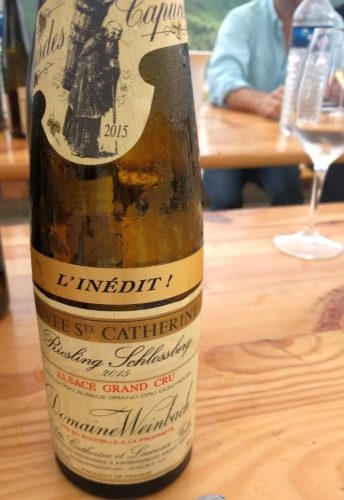 2015 Domaine Weinbach Riesling Schlossberg "Cuvee Sainte Catherine L'Inedit" (Alsace Grand Cru, $62)
Weinbach dates back to the late 1890s, and farms valley vines in an area that dates back to the 9th Century. Their twist is the combination of lees aging in stainless steel, and the use of large, old oak vats for fermentation. While pricey, the Cuvee Sainte Catherine L'Inedit is all-that. The fruit is from a selection of mid-slope vines, and is a richer expression of Riesling; think apricots, ripe lemons, flint, but without any real loss of focus.

2014 Domaine Paul Blanck Riesling Schlossberg (Alsace Grand Cru, $35)
The other Blancks in this lineup have a relatively large holding at thirty-two hectares, and are quite focused on sulfur balance, favoring large, old oak casks for their Crand Cru wines. Their 2014 Riesling was a standout for me. Ripe lemon, mandarin, white flowers, flint; this is a noticeably mineral-driven white in a lineup of mostly mineral-driven whites. Delicate, and lovely, but you'd better like electric, citric acidity.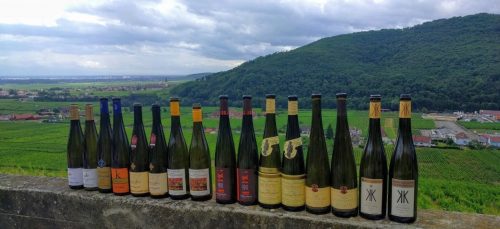 2015 Domaine Martin Schaetzel Riesling Schlossberg (Alsace Grand Cru, $NA)
These folks have been in the Schlossberg GC since 2002, farming 4.5 hectares there. In 2012, they changed ownership and three years later moved so that they could be closer to their vines. Now, eighty percent of their production is from GC sites, with this wine coming from forty year-old vines. Despite a later start than their counterparts, they clearly know how to play catch-up. Roses, lychee, and tropical fruits are the first things you notice here, followed by an astringent bite and a hint of sweetness (thanks to about forty g/l of residual sugar, which you will not mind once this excellent, fruity, and serious effort is in your mouth.
Cheers!