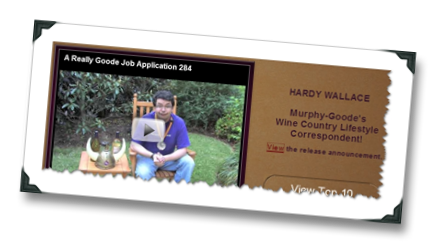 And just like that… it was all over.
What was arguably the largest publicity-minded event in the history of U.S. winemaking is over, as the reality-TV-inspired A Really Goode Job contest thrown by Murphy-Goode winery has finally come to an end.
I'm extremely pleased to report that 1WineDude.com friend Hardy Wallace of DirtySouthWine.com has been named the winner, and will begin his 6-month post as Murphy-Goode main media man on August 15th.
Frequent 1WineDude.com readers will recall that Hardy was my pick back in May when the contest first started taking off.  Personally, I'm pleased as sangria-punch to see Hardy get the attention, accolades, and the job of his dreams. You can view the entire press release on the winning announcement here.
The entire event garnered a massive amount of publicity (both positive and negative), and saw job opportunities open up to several of the participants as wineries were exposed to the increasing power of social media and Internet-based marketing as a result of the campaign.
What does it mean for the world of wine? It's good news for Hardy, great news for Murphy-Goode, and even better news for wine and social media as a whole…
The whole thing is good for wine, period:
1) It's brought together 'new' and 'traditional' wine media.
Those in print, radio, and TV who cover the world of wine have, through the M-G promotion, come face-to-face with their social media, on-line counterparts.  The trained, paid media few and the mostly-independent, untrained social media many have converged, and probably found that they have far more in common than they otherwise would have believed. They need each other; they support and augment one another.
2) On-line activity is now officially big news.
Just when the wine industry needs it most, the M-G initiative is giving it a publicity boost and a shot in the arm.  What the competition proved is that wine can be big news, and on-line wine activity can be even bigger news – and can attract a talented, young, and passionate audience (which also happens to be exactly what the wine industry needs).
3) Murphy-Goode Fallout = Wine Media Jobs
Much has been written both on- and off-line about the future of wine writing.  Well, we've just seen at least part of that future, and it not only involves writing but also involves bringing together an understanding of how various on-line social media tools interact effectively to promote wine brands.  Is this the same as independent wine writing?  No.  But it is a glimpse at the future talent requirements of at least some aspect of wine coverage, and it's resulting in more jobs than just the M-G dream job itself.  Will other wine groups and brands follow suit?  Probably – and that is not a bad thing, it's an evolution of already existing thing.
Best of luck, Hardy – not that you'll need it.  I'm looking forward to seeing where you're taking things, now that you're a leader in the social media space (whether you like it or not! :-).
Cheers!
(images: areallygoodejob.com)