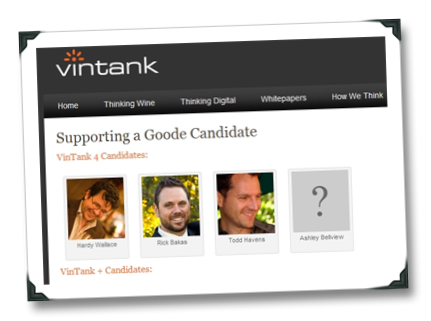 Reality sometimes has a way of bringing strange and awesome congruence to a situation by weaving previously unrelated streams together into a better-together, greater-than-the-sum-of-its-parts style mash-up.  Bananas & pancakes.  Peanut Butter and Chocolate. Bacon and… well, bacon and anything.
At the congruence of wine and Web 2.0, we now find two friends of 1WineDude.com, Dirty South Wine's Hardy Wallace and the Vintank wine & technology think tank, matching strengths.  Sort of.
1WineDude frequent visitors will recall Vintank from my recent coverage of their social media report release, which generated quite a bit of lively discussion on the virtual pages here (not quite as lively as the time I basically called Robert Parker a jerk-wad for dissing bloggers, but pretty darn lively).
Seems that Vintank is now providing over $100K in pro bono work for a hand-picked group of candidates who are currently vying for top spot in the on-line competition to land a 6-month paid stint as the social media guru for Murphy-Goode winery.
Just in time, as the Really Goode Job competition is really heating up good…
Murphy-Goode's competition now has nearly 300 entrants, each of whom has submitted a video explaining why they are best-suited to the social media guru job.  These videos range from a handful of engaging, humorous, and intelligent entries, to a large number of sleep-inducing, half-hearted attempts, to finally another handful of vids that so badly miss the mark, they become fascinating in terms of achieving almost unbelievable levels of mind-numbingly boring awfulness – like watching a train wreck, or listening to that Christian Bale rant from the Terminator Salvation set (NSFW!)
Thankfully, Vintank has selected a group of those in the upper-tier of awesomeness who will receive their services and assistance, including Hardy, who is currently in the top group of entrants in terms of votes and is the person behind whom I've thrown my support.
In terms of what support Vintank will provide, here's an excerpt from their website that explains the whole deal:
"With all VinTank candidate we will be working closely with them to help them run their campaign and help others learn about wine, social media, and Murphy Goode.   We will be giving strategic guidance, business development support, and tactical assistance so they will be well versed in wine online… In addition to our offer to MG, we will add a support package to any winery that hires any of the VinTank 4+ after MG chooses their candidate… no matter who is chosen, we will donate $100K of consulting services pro bono to that candidate."
For more details, check out http://www.vintank.com/2009/05/supporting-a-goode-candidate/.
Good luck to the Vintank 4+!
======================================================
======================================================
Cheers!
(images: vintank.com)