"A bottle of good wine, like a good act, shines ever in the retrospect." – Robert Louis Stevenson
Stevenson had it right about special wines being eminently memorable, though he forgot to add the part about how wine tasting, like a hot date, owes so much to anticipation.
And as much as I like to think that I am inching ever closer to the Zen mystery, it's really difficult not to put expectations on a tasting in which magnums of 1995 Champagne and Graham's Vintage Port (1977), as well as bottles of 1981 Vieux Chateau Certan, take second billing.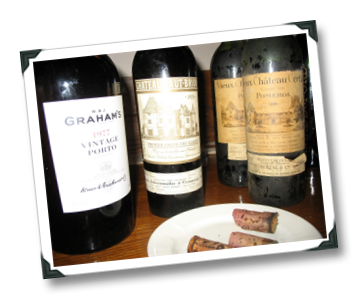 Which is exactly what happens when you have a bottle of (genuine) 1929 Haut-Brion in the lineup.
That's because the 1929 Haut-Brion is one of those extremely rare triple threats: world-class producer, renowned vintage (before every other release was deemed "vintages of the century" in Bordeaux) and rare old wine (in decent condition).
Or so we had hoped, anyway.
As it turns out, that fabled bottle that had me (and several other guests at the Columbia Firehouse restaurant in old town Alexandria, VA) buzzing with anticipation last week had apparently leaked at some point in it's 81-year history.
Uh-oh.
We (a group of about 15 people) were assembled as the hand-picked guests of my buddy Jason Whiteside, DWS (Washington Wine Academy instructor, friend of the Dude and frequent guest poster here) to celebrate the achievement of his WSET Diploma in Wine & Spirits (a pre-req for entrance into the Masters of Wine program).  It's a difficult and hard-earned achievement, well-worthy of opening some special bottles.  As our generous host put it after inspecting the most special of that night's bottles, "this wine could be deader than Lincoln"…
Haut-Brion, of course, has been special for a long time, having first come to the attention of the wine-loving public outside of France in the 1600s – or so goes the story as taken from the diaries of Samuel Pepys, who on April 10, 1663 recorded his first encounter with HB:
"…a sort of French wine called Ho Bryan, that hath a good and most perticular taste that I never met with."
Haut-Brion kept up its reputation into the 1800s, being classified as a First Growth in the oft-cited but never-intended-to-have-any-staying-power 1855 classification of Bordeaux wines (the only producer outside of the Medoc to be included in the top tier).  Most  modern critics agree that Haut-Brion has been consistently stellar since the mid-seventies.
1929 is widely regarded as a special and superb vintage for Bordeaux, and it's been speculated that the dry and warm conditions that year created an almost "cooked must" situation during fermentation that is partly responsible for the longevity and aging potential of that year's wines.  Rainfall was about half of its normal amount that year, and the temperature sum was 103% of the average at the time.  According to HB itself:
"A hot, extremely dry year, the driest since the start of the century. The juices were very concentrated and the wines characterized by an enormous richness of tannin. Wines slow to mature, but with exceptional structure."
Now, you're patiently waiting for the tasting note on that `29, right?
But the theme of this article is anticipation, remember?  So, you're gonna have to wait.  I know, I'm incorrigible…
Retail prices of the 1929 Haut-Brion reflect its rarity and the general perception of the vintage's quality.  Expect to spend somewhere around three grand USD for a 750ml bottle (if you can find one).
It was a long lead-up of excellent wine and food pairing courses to the "main event," and we tasted several stellar wines from Jason's stash; not that you care, but here's the list (you see, not unlike those really lengthy and dramatic Catholic weddings, I'm all about keeping you as long as possible from the "consummating act" of this article):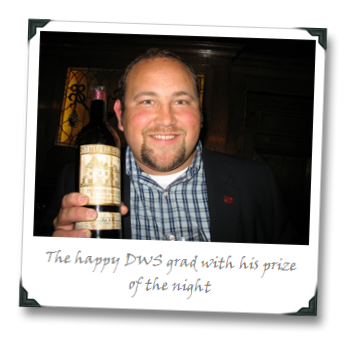 Which leaves us with that `29 HB.
Fortunately, the tales of this wine's demise were greatly exaggerated.  Improbably, the wine was not only still drinkable, it was downright lively and it still had perceptible fruit.  At 81 years young.  I know, right?!??
Here are my (expanded) tasting notes:
"Visibly aged but still has some shine. The first sniff is a huge whiff of crushed walnut shell that I will probably never forget and will clearly be a reference point for any long-aged wines that I taste from this point onwards.

Seems impossible but there are notes of dried cherry fruit still on the palate once the walnut action calms down, and the fruit is very pure.  A hint of soy on the nose, with smoke and some game, followed by truffle.  Palate is very, very savory and the mouthfeel is really smooth.  "Elegant" and "stately" come to mind.

The most improbable aspect of all is the acid. This wine, at 80+ years on, has enough acid that it could easily be paired with food, which is by any practical measure a chemical miracle. I'm shocked – and would have considered it an impossibility after seeing the crumbled cork and leakage when the bottle was opened.

Still strong after about 20 minutes, but the savory notes are beginning to take over.  Will be gulping the last remnants down before it turns into vinegar in the glass."
And I did, in fact, gulp the remaining bit down in one big slurp – better to do it then, I figured, and enjoy it, than to wait until it was nigh-undrinkable.
I'm tempted to say that this was a once in a lifetime experience, but I think that Jason has a second bottle in even better condition… so I plan on staying on his good side for the foreseeable future…
Cheers!