Just when you thought that wine has been analyzed form pretty much every angle possible, along comes Philadelphia native, biochemist PhD and former medical research scientist Sondra Barrett.
Sondra's journey to wine seems spiraling and circuitous: Originally a researcher on human leukemias, she was asked to photograph a patient's leukemia cells, which lead to her presenting slide shows of normal and abnormal cell comparisons at oncology clinics.  After attending a photographic exhibit of chemicals of the brain, Sondra saw parallels in her leukemia work and, noticing an artistic quality in the brain chemical photos, decided to try similar photographic techniques on molecular structures in nature.
Structures like wine.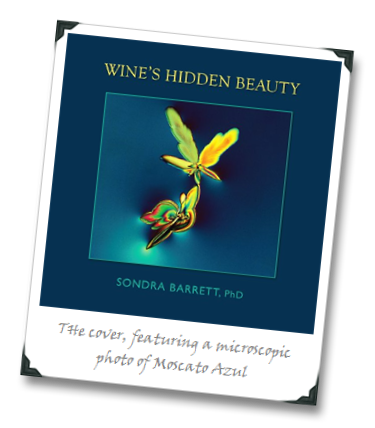 Sondra is now the author of a recently released collection of those photographs, titled Wine's Hidden Beauty.
And the images in this book (Sondra sent me a review copy) are, simply put, extraordinary.
According to Sondra:
"My first discovery was at Sterling Vineyards when I was artist-in-residence documenting winemaking from the inside out. The winemakers gave me barrel samples and wines from all over Napa Valley. This extraordinary experience led me to uncovering distinct patterns and beauty in a glass of wine. Early on, a Napa grape grower, Rachel Balyeat, provided some financial support for me to delve further into the life of wine. She hosted a special dinner with acclaimed wine maestro André Tchelistcheff to discuss what these pictures could mean. André's first reaction – 'They are the jewels in wine. Put them on silk scarves.'"
I think Andre was on to something (though I don't wear silk scarves so I'll stick to admiring the photos in printed form)…
If you're a geek, like me, the first thing you want to know is how these pictures were taken and exactly what the hell they are are pictures of in Wine's Hidden Beauty – again, according to Sondra:
"The pictures you will see are taken through a 35 mm camera atop an interference light microscope. Interference microscopy breaks white light into its rainbow of colors. In other words, I "paint" what I see with this light. Many of the pure chemicals and patterns in wine would be transparent were it not for the interference prisms on the microscope."
In other words, we can't normally see these molecular structures in wine even under standard microscopic examination.  They are hidden.  And they are beautiful.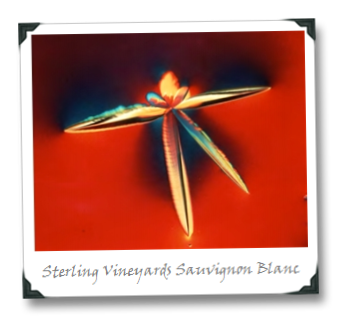 One of the most interesting aspects about Wine's Hidden Beauty is the repetition of patterns that Sondra has unearthed in those hidden molecules, where excellent older vintages of Cabernet Sauvignon take on similar complex forms, sharp edges define crisp, refreshing white wines, and even malolactic fermentation shows a telling pattern.
In other words, Sondra's book might just be revealing the "shapes" of taste.
I found the prose of Wine's Hidden Beauty to be enlightening, but nearly as circuitous as Sondra's journey to wine itself – at times it's sprawling and confusing, and you get the sense that you're galloping just to keep up with hr on the tangential journey of her thoughts.  But there's no denying that her molecular photographs are gems, and the book is stunning simply on that facet alone; it's the kind of book that you don't even need to read to have it change your perspective, and a rare case in which the cover (Which features a photo of Muscato Azul) does indeed accurately judge the contents.
If you find yourself saying "WOW" at the cover, then this book is well worth your time.
About $25 on Amazon.com, $35 signed by the author, and some copies are still available via the Palate Press Wine For Haiti auction.
Cheers!