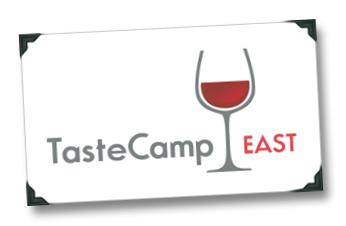 TasteCamp EAST is nigh upon us!
The entire Dude clan (minus the dog) will be en route to Long Island wine country tomorrow to take part in TasteCamp, a regionally-focused spin-off of the North American Wine Bloggers Conference.
I'm trying very hard to figure out something better to do for celebrating my anniversary than visiting a regional wine area and tasting their wares… hmm… sorry, drawing a blank here…
Anyway, Lenn Thompson has done a great job so far in pulling together the first-ever TasteCamp event, and I and some of my fellow Right Coast wine bloggers will be reporting (probably sporadically) from the event.  Here's a quick list of the wineries and sponsors that will be part of the event:
I'm pretty stoked to be meeting up with my wine blogging compadres in New York. More to come, but you can follow the TasteCamp happenings as reported via twitter by checking out the widget embedded below on this post.
—————————————————————
—————————————————————
Cheers (and snoochie-boochies)!