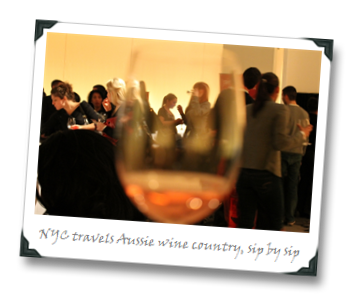 Considering that I've been so surprised by the high quality of some Aussie white wines in the last several months, it seems surprising that I should be surprised at all when Aussie wine surprises me these days.
And yet, my mind is simple enough (and apparently entrenched enough in its own little preconceived notions) that the Aussie wine surprises keep coming (good and bad, but probably much more good than bad right now).
Such was the case at last week's A+ Aussie Wine public tasting event at Espace in NYC, called "Around Australia In 80 Sips" and organized jointly by Bottlenotes and Wines of Australia (of whom I was a media guest). [ By the way, the "A+" thing is their marketing label, not mine. ]
The Aussie's in the biz who attended refer to this sort of public tasting event as a "swim through" – I'll let your imagination fill in the blanks on what that means, but let's just say I had to fight to make my way to poorly-placed spit buckets, and I was by far in the minority in terms of actually using them.
The volume of imbibing aside, it was great to see so many people (a few hundred NYCers) – and predominantly young people, who apparently haven't heard (or are just ignoring) the misinformation that Aussie wine is dead – coming out to get a crash-course in what Aussie wine has to offer the U.S. market.  Something like forty wineries participated – mostly the big ones, which very likely isn't a true representation of the diversity of the Aussie wine market, but was certainly an accurate representation of the Aussie producers most people are likely to find available on our shores.
The surprises for me this time? The reds…
While it is true that the reports of the Aussie wine market's death have been greatly exaggerated, they haven't been quite so exaggerated when it comes to the reds, especially the lower-end of the Shiraz product range which has garnered a rep for tasting too much like berry compote, brown sugar, wood and grain alcohol shoved into a container full of Pepsi and mixed together.
And I did find a few such examples at this tasting, for sure – but those on the other end of that spectrum? Well, they were a different story entirely: concentrated, for sure, but spectacular in their complexity and in some cases their potential food-friendliness. A few from cooler Aussie climes could have passed for Syrah from some hip, modern Rhone producer in a blind tasting.
So on to the juice – here are four reds that stood out for me as being particularly surprising, pleasure-inducing, and worth their price tags (or more):

2008 Turkey Flat Butcher's Block Red (Barossa)
Price: $27
Rating: B+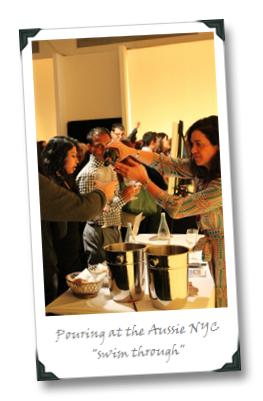 A serious red made from old (seriously old) Shiraz, Grenache, and Mourvedre vines from Turkey Flat's own Barossa vineyards, this wine is a study in what intense concentration is supposed to taste like; when it's natural, from old-vine small berries with clusters that don't ripen uniformly, and not when it's induced by borderline-raping grapes during crush and fermentation. It's deep, intense, tense, and tart (it's the tart part that never shows up in the over-extracted, heavy-handed styles), and it will make you feel simultaneously enlightened but also like you just got your ass kicked, like Neo in that dojo scene with Morpheus in The Matrix.

2008 Schild Estate Sparkling Shiraz (Barossa)
Price: $29
Rating: B+
I hard time coming to terms with this wine. I am still having a hard time coming to terms with this wine. By most accounts, it shouldn't work. It's the thickest, meatiest, blackberry-pie-est sparkling Shiraz I've tasted in a long time. It's like high-end Barossa with bubbles, a dark berry meat samosa, and yet… it just… works. Wine snobs aren't supposed to like wines like this… so I'm quite glad I am not a wine snob. Your mileage may vary – keep an open mind about this one and you're in for one of more unique bubbly wine experiences you've probably ever had.

2004 Mount Langi Ghiran Langi Shiraz (Grampians)
Price: $44
Rating: B+
My on-the-spot tasting note for this beauty reads "Pepper! OMG, we have honest-to-goodness PEPPER!" Sooooo much Aussie Shiraz is made that is utterly devoid of cooler-climate Syrah's black pepper spice that it's enough to induce depression in Rhone Valley wine lovers, which is what made this wine stand out from the pack of 80 at the NYC tasting. This wine is the Zoro of Aussie Shiraz, dazzling you with a display of black fruit before going in for the spicy kill and, then stealing your horse and riding off with your wife, and all the time you're thinking "damn, that guy is soooo smooth."

2004 Cape Mentelle Cabernet Sauvignon (Margaret River)
Price: $50
Rating: A-
Again, I'll start with the brief on-the-spot tasting note, which reads: "uhmmm… wow; lovely." That sums it up, but for those who aren't into the whole brevity thing, I'll add that this wine struck a fantastic balance between dark berry fruitiness (yeah, we are tasting wines from Down Undah, here), wood spices, earthiness and tangy red currants. Just smelling it had me thinking about potential food matches, which is a relative rarity in Cab from just about anywhere these days, so it came off like a breath of fresh air, as if some kind-hearted soul had just opened the window on a bright spring day and offered you a slice of pie, a massage, and a date with Heidi Klum.
Cheers!