Seriously. Stop hating on Pinotage.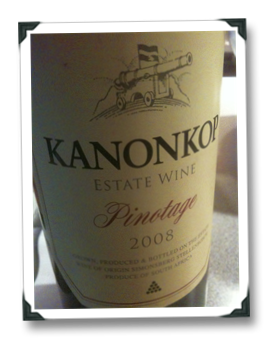 Why? Because there's nothing "wrong" with it.
I am here today to tell you that Pinotage is not bad; it is simply different. And if you don't like this oft-maligned but more-oft-misunderstood South African cross between Pinot noir and Cinsaut, that's your prerogative. Just stop drinking it and shut about it, already, then. I mean, Pinotage has some high-profile wine critics who are haters right now – for Pete's sake, Lettie Teague expresses disdain for it on her friggin' homepage.
Yes, the worst of them (Pinotages, I mean, not wine critics) smell too much like overly-aged smoked meat wrapped in bananas and dipped into a vat of acetone that's being bioled over a tire fire. I fully acknowledge that, okay?
But riddle me this, Wine Man: what bargain-basement version of any variety doesn't have its fair share of sh*tty-tasting bottlings? Ever had really bad Cab? Terrible Pinot? Of course you have. Pinotage is no different than any other fine wine grape (yes, I meant to put the "fine" part in there), in that bad fruit in incapable winemaking hands results in a terrible wine, overemphasizing the worst qualities of any grape. It just so happens that Pinotage has more ammunition with which to work than most in the off-odors department.
That doesn't mean that Pinotage cannot be beguiling when the right fruit gets into the right winemaking hands. It just means that there's a little more of a deft balancing act to be attained when dealing with Pinotage.
But I know it can be done, and done well, because I've tasted some first-hand…
I suppose that I should expect a great deal of challenging push-back on this, since many seem to be strong with the Dark Side of the Pinotage Hate Force these days. So why the crotchety words on Pinotage-hate? Because I'm sick of wine variety bigotry, in which one style or grape gets maligned unfairly simply for being… itself..
The bottom line is that a lot of people dig the red fruit, leather, bacon, tropical fruit kitchen-sink mix of aromas that Pinotage has to offer – and they're not wrong. You can shift your perspective to see their Pinotage-loving point of view, by the way – you just need to approach it with an open mind.
Am I saying that you should happily gulp-down any old Pinotage that reeks of acetone? NO – pour that shiz down the drain where it belongs. But I am saying that Pinotage that is complex, interesting, even compelling and doesn't reek of acetone is, in fact, totally worth seeking out because it may end up being one of the most eye-opening, unique wine experiences that you'll ever have along your personal journey towards vinous enlightenment.
For example, this bottle that I pulled from the growing ocean of samples in my cellar…

2008 Kanonkop Pinotage (Stellenbosch)
Price: $27
Rating: B+
The 2008 Kanonkop deftly captures the entire BBQ picnic in a single bottle; toast, smoked meats, red fruits, bananas, leather purses & all. In the grand scheme of things, it's a great introduction to high-end Pinotage and actually delivers quality and complexity levels a bit above its price point.
The interesting thing about this wine, for me, is that it's also a bit of a crowd-pleaser. I've served it to people without telling them what it is, and most happily drink it up and actually perform a bit of a head-fake when I later tell them it's Pinotage. Now, it definitely tastes like Pinotage, it's just that it's fruity enough that the smoked meat and tropics are part of a balanced whole, so they don't dominate. If I have a cavil about this juice, it's that it's a bit oaky – but even that demonstrates a fairly unique quality that Pinotage possesses, which is an ability to absorb amounts of toasty oak that would cripple other varieties and yet still offer a balanced and pleasing drinking experience.
So is this a commercial for Pinotage, harkening it as my new fave fine wine variety? No.
But it is a minor plea against the undeserved hate.
Cheers!