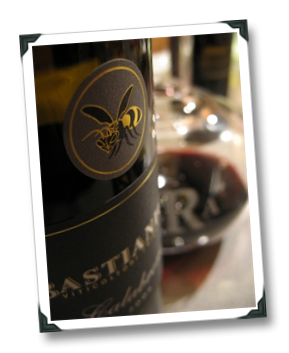 Usually I prefer to know when wine samples are coming to my door.  For the most part this has to do with the vagaries of logistics (will someone be around to sign for the package?), but just as importantly I prefer to know that the wine has some potential value for 1WineDude.com readers (you folks like that hard-to-find, more interesting juice).
Also, I need to find room in my basement, which is overrun with Styrofoam packing material that needs to be driven down to DE for recycling.  Either that, or I'm gonna build a huge Styrofoam wall, and then bust out of it and scare the living shit out of my dog…
Anyway, it's a really, really nice surprise when an unsolicited sample actually rocks the Kasbah and does have potential value for the 1WD crowd; when that random bottle that just shows up and causes my dog to absolutely freak out beyond all reason at the approach of the UPS truck (if you ever want to know what it's like to dislocate your shoulder, just walk my dog around my neighborhood during UPS delivery time) is all worth it.
Which is why I recently did a double-head fake after tasting the 2006 Bastianich Tocai Plus – a rare moment when the odd random sample provided true blogging serendipity. I dare say it was even worth all of the mad barking, as this wine offers a nice helping of Friulian ass-kickery…
Some of you will recognize the name behind Bastianich – Joe Bastianich – as the purveyor of various NYC restaurants like BECCO, and as the co-author of the excellent Vino Italiano.  Others might recognize his mother, food icon Lidia Bastianich.  I'm guessing that the Bastianich wines from Italy's Fruili region are not quite as well-known, but based on my tasting they ought to be.
I've been a fan of wines from Italy's north-eastern corner for a long time; the Friuli-Venezia Giulia region offers a relatively large variety of wines considering it's responsible for only about 2% of the country's total wine production.  What's really been exciting for me, in a massively-wine-geeky way, is how producers from California and Long Island are starting to look towards Friuli for inspiration in their white wines, with some spectacular results.  In the case of Napa's Matthiasson, winemaker Steve Matthiasson is also starting to experiment with Friulian red varieties like Refosco (barrel samples I tasted with Steve earlier this year in Napa were promising).
Bastianich's Tocai Plus is itself not your typically refreshing Friuli white.  In fact, the wine is downright obnoxious, but you might love it anyway; it's the white equivalent of Amarone (almost literally – some of the Friuliano fruit gets a similar appassimento drying treatment) and also includes some late harvest and botrytized fruit from 50 year-old vines, all vinified dry.  After stainless steel fermentation, the wine gets 60% malo-lactic fermentation and 9 months of lees aging, followed by another year of bottle aging.
The result is just as bombastic and powerful as you'd expect, but it keeps a refined edge.  There's a good deal of aromatic complexity, with pears and melons, dissolving into an honeyed character but without the luscious sweetness.  The palate is rich and the body of he wine is enormous without feeling flabby.  My mini-review:
06 Bastianich Tocai Plus (Colli Orientali): Dense, structured, rich, a honeycomb w/out the sugar. Further proof of Fruili's potential. $66 A
Pricey, but worth it if you're looking for a unique wine expression that's way, way far from the same-old, same-old.  Only about 400 cases were made.  You can shop for the Bastianich Tocai Plus at Italian Wine Merchants, and they have a (very infrequently updated) blog as well.
Cheers!