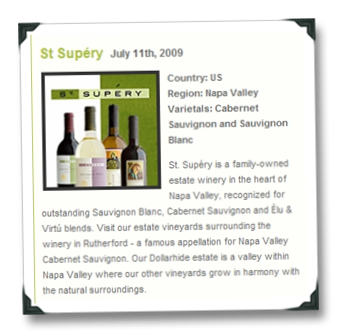 Time for another Twitter Taste Live! event.
I know what you're thinking.
Will this herald yet another untimely celebrity death and bring twitter to an equally untimely end?
I sure hope not.  At the very least, I hope I have a chance to be buzzed before twitter takes a dump all over the Internet.
So onward we will press… This time around, wine twitter-maven and all-around ubiquitous (and hilarious) on-line wine goddess Thea (a.k.a. WinebratSF) will be leading us through a tasting of wines hand-picked for Summer enjoyment from venerable Napa producer St Supéry Vineyards.
Proceedings will kick off at 9PM ET on Saturday, July 11.  You can read Thea's energetic intro to the event here.  A run-down of the wines looks promising:
I'll be in attendance, as I can't seem to achieve escape velocity for any TTL event… nor would I want to, come to think of it…
Hopefully, I'll see you on-line as well (you can RSVP here).  In the past, I've tried to capture some of the twitter banter via plug-ins on 1WineDude.com, but TTL has now become so successful that there aren't any plug-ins that can track and replay enough twitter accounts to make a replay worthwhile!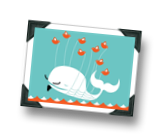 As one of the few people who've been able to participate in TTL form the very beginning, and to watch it grow (and contribute a bit to its success) along with its generous founding members… well, in a way it makes me very proud and happy to see how far it has come.
TTL is officially ROCKIN' LIKE DOKKEN, baby!
On Saturday, I'll be toasting to what will hopefully be many, many, many more TTL events.
Twitter Fail Whale be damned.
Cheers!
(images: tastelive.com, twitter.com… sort of…)