It's not often that a wine guy avoids a wine region by choice.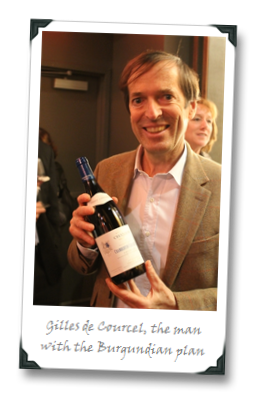 Yet that's more-or-less where I've found myself when it comes to France's Burgundy, home of both ethereally-exquisite, mind-blowingly-good wines and overpriced, cabbage-in-the-bathwater bad swill, with little to guide the consumer from choosing one over the other apart from painstakingly acquired detailed knowledge of the region's négociants… and we've all go those guys' details committed firmly to memory, right?!??
Ahem…
And so, when you get invited to a vintage tasting in NYC for a Burgundian producer with whom you have no prior experience, even as a critic-of-sorts you steel yourself for what is surely to be the inevitable dropping of the other shoe; as in, having to taste wines that smell like the other shoe dipped in someone's droppings.
And then, when you're not only pleasantly surprised by the outcome – as I was at Blue Fin last week, after going through the 2009 lineup from Père & Fils' Domaine Chanson – you're practically blown away… Well, then you have to endure the odd-paired painful pleasure of watching your personal assessment of both that producer's abilities and your own douchebag rating simultaneously skyrocket. [ Editor's note: This pain was salved slightly by the fact that Père & Fils' was pouring bubbly from Champagne producer Bollinger, which they also own, and which I can now tell you from personal experience washes down the taste of crow with elegant, floral appeal. ]
Much of Domaine Chanson's rise to within-spitting-distance of Burgundy's upper-echelon (and therefore arguably the wine world's upper-echelon) can be attributed to the hard work of its President, Gilles de Courcel – an amicable guy with thinning brown hair, a quick smile and eyes that light up when he gets a chance to exercise his borderline-obsessive passion for describing the tiny geography from which Chanson's top-tier, tiny production Grand Cru wines originate…
The only real problem in meeting Gilles and tasting his wines is the stark realization that the Capitalist laws of supply and demand will almost certainly assure that even if you could find those tiny production Grand Cru wines, you almost certainly won't be able to afford them. It's like seeing a great movie and then minutes later contemplating the sadness of the human condition and the tragedy of your own worthless mortality in the grand Universe.
And it mostly hurts because really, really good Burgundy wines are a bit like crack cocaine for wine geeks; they just might reset the bar for you on Chardonnay and Pinot Noir and leave you fruitlessly chasing those initial highs for the rest of your miserable-ass life.
But I'm gonna tell you about them anyway, because misery most certainly loves company when it comes to this kind of pain:

2009 Domaine Chanson Corton Vergennes Grand Cru
Price: $114
Rating: A
From a tiny hillside vineyard that once belonged to Louis XVI's counselor. At first sniff, this comes off as lemon water, not Chardonnay. There's literally almost nothing there. Then the waves start rolling in – limes, spices, wet rocks, tropical fruits… and keep coming until the whole thing aggregates into a sense of total, elegant indulgence, which keeps on going even seconds after you swallow the stuff, after which you will feel like storming the Bastille on horseback, banners flying wildly in the wind, while trumpets herald your attack. Of course, you'd probably be shot instantly by the French police but another sip will take you right back to fantasy land.

2009 Domaine Chanson Chambertin Clos de Bèze Grand Cru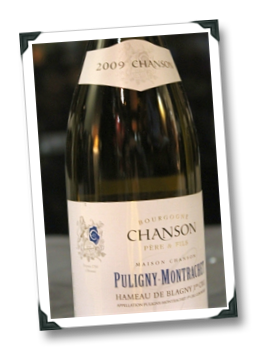 Price: $215
Rating: A
From relatively prime real estate in tiny Burgundian terms, in an upper part of an Eastward-facing hill in Gevrey Chambertin. A wonderful balancing act of structure – acidity, minerality, tannins, spices, ripe and dried fruits, blah-blah-blah… And that's all just on the nose of this Pinot. Something like twenty-seven different red berry fruits then present themselves, delicately lifting up your will and then crushing it and playing with it like a cat toy. Which you won't mind so long as there's still another sip in the glass (which their won't be, at least not for long).
Two selections from Chanson' slightly lower-tier Premier Crus stood out for me at the tasting – so much so that I thought offering them as somewhat-easier-to-possibly-locate and somewhat-more-affordable alternatives:

2009 Domaine Chanson Puligny-Montrachet Hameau de Blagny Premier Cru
Price: $65
Rating: A-
From clay and limestone soils near Meursault (not that you care, probably). Sensual, textural, floral, elegant, but almost biting in its acid as its still in the Puligny-Montrachet version of wine diapers. Visions of scallops will likely appear at first sip. I'd suggest this Chardonnay for a hot date, but then that date would expect this kind of wine every date night and then eventually the only thing that will get screwed will be your bank account.

2009 Domaine Chanson Beaune Clos des Fèves Premier Cru
Price: $66
Rating: B+
This is Burgundy Pinot Noir from a "monopole" vineyard with an eye looking slightly towards the Sonoma Coast. It's seductive and juicy, and isn't shy about dishing out raspberries and baking spices towards your nostrils. The vanilla and oak here come off more like a cleverly-applied hint of perfume and less like, well, vanilla and oak: drawing you in for a closer look rather than turning you off in sneezing fit.

Cheers!