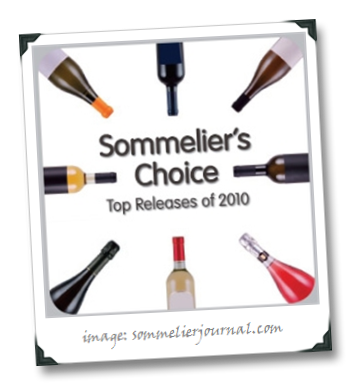 1WineDude.com readers are no strangers to Sommelier Journal, the wine mag with which I started a bit of a wine-geeky-info-love-affair back in 2008 (I'm a subscriber). You may also recall that last year I took SJ to task (tongue firmly in cheek, of course) for their Top Wine Releases of 2009 (as chosen by wine personalities and pros invited to contribute to the list, choosing wines that were particularly memorable to them from those that they tasted during the year).
As many of you may also know, I'm a fan of that recap approach.  But while I loved the selections and the manner in which they were solicited, I wasn't a fan of the price tags to be found in the list – last year's round-up had an average bottle price of $97.18.
Sommelier Journal's Business Manager, Phil Vogels is a nice guy and a (semi) frequent contributor to the comments here on 1WD, and pointed out in the discussion that followed my critique that the average price was mathematically skewed by a small number of very pricey wines – and that the majority of the wines were actually quite affordable:
"You'd be hard-pressed to break down the list in a way that didn't have under $30 as the highest category…"
Well, the 2010 edition has hit the shelves as part of Sommelier Journal's December 15, 2010 issue.  How does the new list fare in these belt-tightening times?…
Better, as it turns out.  The average price clocks in at $57.43.
The priciest option is a Riesling Eiswein from the Nahe (the 2008 Donnhoff Oberhauser Bruke at $290) submitted by SJ Contributing Editor David Furer.  The least expensive options will only set you back about $10 – a Kerpen Riesling Kabinett Wehlener Sonnenuhr 2009 from the Mosel  (submitted by Christopher Bates from Hotel Fauchere in Milford, PA – hot damn, from PA and a German Riesling lover!), and a Quinta de Gomariz Loureiro 2009 from Vinho Verde (submitted by another PA peep, Master Sommelier Melissa Monosoff).
In a move clearly designed to keep tabs (and a muzzle) on a troublemaker, I was also asked to contribute to the 2010 list – and I'm a jerk, because my personal selection rang in at $75 retail and certainly didn't help to bring the average bottle price on their list down by much.
What I almost certainly did bring down was the average IQ of the invited contributors – there are some fantastic palates and talented people who provided their most memorable wines of the year for the list, including wine director Jesse Rodriguez, (another PA peep) Marnie Old, and Master of Wine Sandy Block. Yeah, I know the list is somewhat invalidated by my inclusion… I just hope the other folks get over it soon in case I run into them at tasting events…
The full Top Releases of 2010 list is available as an image (click below to embiggen) and there are some fascinating selections on it. However, if you want to read the entire article with all of the juicy details on who selected which wines and why – and I certainly recommend doing exactly that, because it will give you major insight into what makes each of the wines so special and, more importantly, will help you decide which of those selections is best-suited to your wine tastes – you'll need to subscribe or purchase the article individually for $3.99 (which is just peanuts for a kick-ass list like this).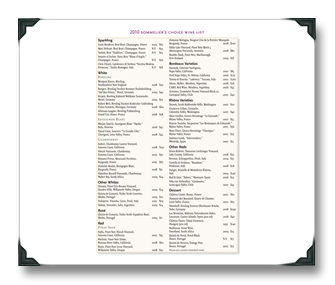 Cheers!