Special Report from the IP (Inebriated Press) – Constellactus, devourer of wine brands, appears to be heading towards Earth, with dire consequences for the planet's wine industries.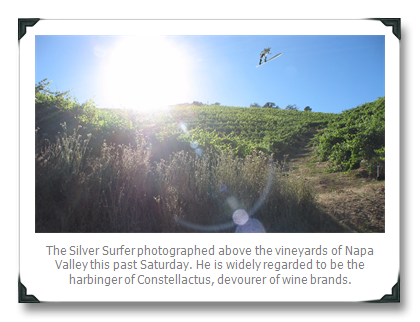 Fueled by the mysterious "power cosmic" and a recent rise in market share, Constellactus Brands – devourer of wine brands and the largest wine producer in the known Universe – is expected to reach Earth in a matter of days, say world scientist and wine industry analysts.
"At this point, we know Constellactus is coming and we strongly suspect that he is interested in the wine brands of Napa," Napa Valley Vintners Association Executive Director Linda Reiff told reporters yesterday at a hastily-organized press conference held at the Culinary Institute of America in St. Helena, CA.  "What we don't know what brands here will survive – if any at all."
The wine industries in Napa and Sonoma have been sent into near-chaos this week after multiple reports of local sightings of The Silver Surfer, Constellactus' primary brand ambassador.  It is widely believed within the global wine industry that the appearance of the Silver Surfer heralds doom for the independent wine brands of that local area.  When pressed about whether or not the Sonoma wine industry – which has yet to respond publicly to the coming threat – should also be concerned about the coming of Constellactus, Reiff responded, "I am not aware of a wine industry in Sonoma… but if they are making wine there, then they ought to be very, very concerned right now. All we know is, wherever the Surfer goes, two weeks later that wine industry dies."
Constellactus is widely feared throughout the known Universe for its seemingly insatiable ability to devour a planet's entire population of wine brands, in some cases leaving the Profit and Loss statements of those brands a mere husk of their former selves and laying waste to their market positions.
The Surfer was last seen on Sunday, flying low across the sky in the Carneros region which straddles both the Napa and Sonoma American Viticultural Areas (AVA).  At first mistaken to be a plane or some type of experimental aircraft, the Surfer eventually slowed down his flight to the point where it could be photographed and confirmed to be the harbinger of its galactic master, Constellation.  The Surfer was largely unresponsive to the mass of reporters seeking comment and asking questions about the intentions of Constellactus, pausing only on Sunday afternoon to address the media with the cryptic statement, "All the wine that you know, is about to end," before speedily taking flight towards the East…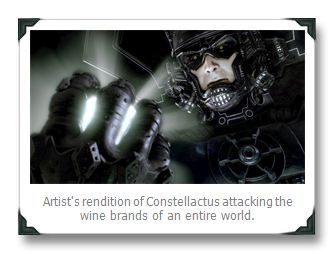 The Surfer's appearance and the imminent arrival of Constellactus sent the on-line wine media world into a frenzy, particularly the website forums of JancisRobinson.com and Wine Berserkers, both seeing an exponential spike in on-line traffic and frequent server crashes as a result (traffic at the eRobertParker.com forums appears to be largely unaffected).  Aside from looking for the latest news and developments after the Silver Surfer's brief media appearance, forum members speculated heavily as to ultimate destination of the Surfer's east-bound flight, and to Constellactus' ultimate intentions.
The majority of wine industry insiders believe the Surfer is headed towards the famous French wine region of Bordeaux, as there is general consensus that the wine styles of Napa and Bordeaux are now so similar that the Constellactus has been unable to distinguish between the wines of both regions. This has fueled additional expert speculation that Napa may not be Constellactus' intended target.
Others believe that no wine industry on the planet is safe from Constellactus. "Constellactus' appetite is enormous and unlike anything we have ever seen in the history of our planet," said Robert Koch, President & CEO of The Wine Institute, an advocacy and public policy association for California wine.  "We may, in fact, be powerless to stop it."
As Constellactus approaches Earth, several measures to halt his advance have been proposed, but only one idea has gained any real traction among industry experts who have ben working in conjunction with NASA scientists.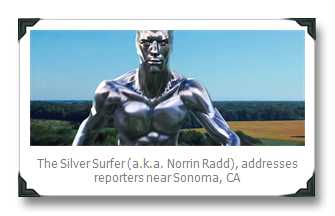 "Our only hope may rest on the fact that Constellactus may already be tired from his long journey towards Earth, and sleepy from recently feeding on the wine industries of other, nearby planets," commented Koch.  "The strongest proposal I've heard so far is to use this to our advantage to lull Constellactus into a state of gluttonous slumber.  We suspect that having Bonny Doon winemaker Randall Grahm read excerpts of his book Been Doon So Long, amplified one-thousand fold and projected audibly into space as Constellactus nears our planet, will induce the beast into some sort of prolonged slumber.  This may not be a permanent solution, but it would buy us significant time to determine a longer-term plan to keep Constellactus at bay and save our planet's wine industry."
Although the plan involving Grahm's reading of Been Doon So Long has been described as "extremely promising" by government analysts, and despite the fact that NASA has already begin working on means to project recordings of the reading into space, to-date no recordings of the readings have been completed. A NASA spokesperson, speaking on condition of anonymity, told the IP that "both the recording personnel and Grahm have been unable to complete a recording because they are all falling asleep before it can be finished."
NASA scientists are now working on an earplug technology effective enough to be worn by Grahm and the recording experts so that the recordings can be completed before Constellactus and its ravenous appetite arrive at Earth.