It's been a while since we've done a giveaway, and so when I was contacted by Fibers.com to potentially partner up and give away one of their wine-themed t-shirts I couldn't resist.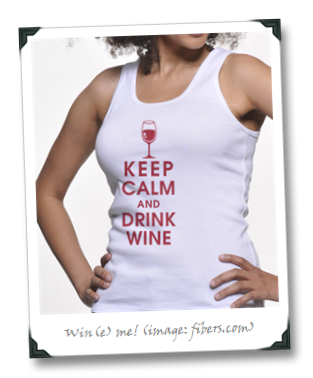 This is primarily because they combine wine with one of my closet indulgences: slogans so bad that they become fantastic. I'm not at all religious, but I've long been fascinated with the epically, awesomely terrible slogans posted on church billboards; they are just so heinously good (if that makes sense). For example, some gems that I've encountered during my driving travels:
"If you give the devil a ride, sooner or later he's gonna want to drive."

"God doesn't want shares of your life; He wants controlling interest!"

"God answers 'Knee Mail'"
That last one is sooooo wonderfully terrible!
Anyway, you've got a chance to win a free, customizable wine t-shirt from Fibers.com just by commenting on this here post! To maximize the fun (for me, anyway!), to become eligible you need only comment here with your favorite terribly awesome wine slogan. Ideally, you'll come up with puns as wonderfully bad as the ones those churches are able to churn out, only wine-related.
I'm thinking along the lines of "Making good wine is a skill; making fine wine is an art; unless your name is Rudy Kurniawan, in which case it's probably a federal offense!" or "I once had budding career in wine growing, but the bad economy green-harvested it." You gotta admit, those are so bad that they could become endearing… anyway…
In one week I will randomly select a winner from the commenters, and contact them via email with the details on how to claim their Tee.
So get commentin' and show off your creative side!
Cheers – and good luck!