Since closing out my Answers.com gig back in June of this year, I have found myself still inundated with wine product/accessory/gizmo samples (I've totally given up on trying to keep samples to a manageable number), but without a convenient (and conveniently highly trafficked) outlet with which to share the better or more interesting of those products.
And so I'm breaking a loooooooong streak of avoiding wine product mentions here on 1WD, so that I can give you a gander at a couple of the vinous accessories that tickled my… whatever it is for wine geeks that gets tickled when they get to play with accessory samples.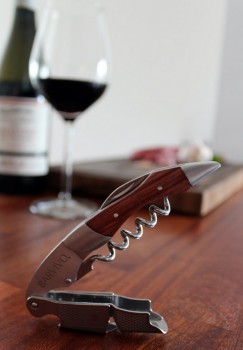 First up is a corkscrew, which at first blush sounds boring, but I've personally been fascinated by these bizarre more-or-less-single-purpose tools ever since researching their surprisingly interesting backstory for a PUBLIX Grape article I penned last year. Right now, I'm full-on a fan of the "hinged" waiter's friend style of corkscrew, so I was pretty jazzed to try out a sample of Barvivo's take on that design. This little number works like a charm, has the double-hinge action that I've grown to find invaluable, and it looks classy as hell.
I'm not accusing them of slave labor, but I've no idea how they managed such high production quality for such a low price. As of the time of this writing, they're offering a coupon deal, which makes the corkscrew a total steal.
When I was contacted by the founder of Vivajennz, I wasn't sure what to make of the idea of her product, which is basically an "up-style" of wine in a bag. "This is either going to be brilliant," I thought, "or completely stupid."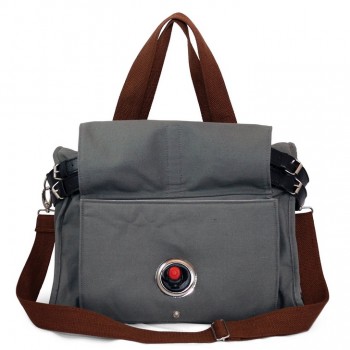 Turns out that the result is somewhere in between, but I'm finding that I like the idea of the messenger-bag version of this wine tote more and more. The short version of the story behind Vivajennz is that instead of using a collapsible pouch for transporting your favorite vino to an event or gathering, you instead put it into a pouch, to which a dispensing nozzle/tap is affixed, and which all fits into one of the stylish, insulated bag designs. Open a flap on your way-cool bag, and take a tap to fill a glass; and boom, presumably, you're the hit of the party.
The overall design isn't the most practical, but I really like that the bag does double-duty (in the case of my sample, the messenger bag is perfectly capable on its own for acting as, well, a messenger bag, and it looks great). Might be worth checking out for the style lover / wine guzzler in your life.
Cheers!