Jeff Smith, of Hourglass wines (and who, incidentally, just took the rather bold move of parting ways with long-standing and celebrated consulting winemaker Robert Foley, and bringing on Cade and Plumpjack alumnus Anthony "Tony" Biagi), knows his Napa Valley wine history.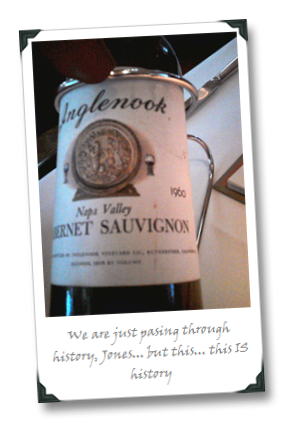 Fortunately for me (more on that in a minute or two).
Smith's roots are there, as grew up in the Napa wine scene, his family having now seen the whole kit-and-caboodle; from the bootstrapping farmers who, in his words, "picked up the scattered bones of an industry after Prohibition and phylloxera," to the influx of outsiders flush with cash and dreams of world-class vanity projects on which they could invest (squander?) their fortunes.
In other words, Smith remembers when it was pronounced Mon-DAY-vee and not Mon-DAH-vee.
Napa's is a winemaking history that many a wine lover has heard about, but few have really delved deeply into from a visceral standpoint, simply due to the fact that there isn't much of the wine from those "old days" around to taste, most of it having been imbibed, or gone bad, a long time ago.
The really fortunate part for me was that when Jeff and I caught up over dinner at Press in St. Helena, he was in the mood to reconnect with the Valley's roots, by way of directly sampling some of Napa's history… from about the time when his former employer Robert Mondavi nearly single-handedly reinvented the Californian fine wine scene…
Press is a restaurant on a mission to preserve as much of that Napa winemaking history as it can. Sommeliers Kelli White and Scott Brenner have helped amass a list of old California stalwarts like Krug, Inglenook and Mayacamas dating back into the 1960s.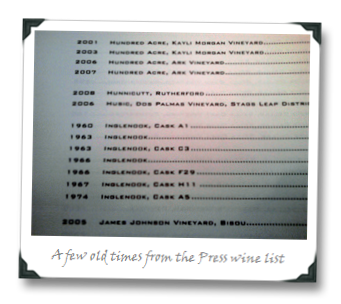 Again, fortunately for me. Because Smith had a hankering for the 1960 Inglenook Cask A1 Cabernet Sauvignon. Yeah, we went there. More on that in a minute.
Press' work is an impressive feat of beverage accumulation as any European-heavy high-end wine list on the Right Coast, considering that many of those older Napa wines weren't libraried and much of the stock has to come from private collections that have to be closely assessed for storage conditions, pedigree, quality, etc.
If you want to taste a bit of Napa history for yourself, you'll need a decently-sized credit limit, and a fair amount of speediness – it seems that Press isn't the only ones after these bottled living legends. "It's getting harder and harder," the staff told told us during dinner; "recently, we are seeing more and more competition for the older bottles as people start to realize how good these wines really are."
As for that Inglenook… well, it shows that the Press staff have a battle well worth waging when it comes to procuring those historic bottles.

1960 Inglenook Cabernet Sauvignon Cask A1 (Napa Valley)
Price: A lot…
Rating: Really? Sorry, we're not going there, people (and No, you really don't need it)
There was still a lot of color – and a great deal of vitality – left in this sucker. It needed decanting to open up, and when it did it was elegant, reserved without being shy, and dressed to the nines. The nose offered cardamom spices, a hint of crushed walnut shell, blackcurrant fruit, and an herbal note that I likened to bay leaf. The palate was something else – glorious, really – racy, tangy, with a red plummy fruit core and vibrancy that felt like it would go on for days in your mouth. The most striking thing, though, was that this wine was just delicious. It just worked. It made you glad that you were alive on the Earth right now, forgetting for an hour or two about all the poignant sorrows we have to deal with…. you know, things like the knowledge that at some point about a trillion years from now our infinitely-expanding universe will have pushed all distant currently-visible matter outside of our cosmic horizon for the rest of eternity, making those distant stars stars and galaxies invisible to any future observers living in our local galactic cluster… poor, hapless, star-gazing suckers of the distant future; they will never know that all that luminous, beautiful cosmological glory ever even existed… (based on our current understanding of inflationary cosmology, that is all actually going to happen, by the way). Or something like that, anyway.
This was the kind of wine that reminds even jaded-ass pseudo-critic-pros (not that we know any of them, right?) why they fell in love with fine wine in the first place.
I finished a few glasses, but as the last one went down, a wish went up to that ill-fated cosmos; a wish that all 50+ year-old Napa Valley Cab would develop like this wine had. Of course, I'm far from sanguine about that happening, but let's try and avoid that negative poignancy for at least a few more precious moments, okay?
Cheers!