This week, I'm traveling through the Spanish wine region of Rioja (a guest of the Vibrant Rioja campaign), and will be attempting to report on events therein via twitter and FB as they transpire, Internet connectivity and available free time permitting, of course. It's an all-blogger trip, which isn't the norm for this sort of thing and so should be an interesting change of pace as I hit the apex of my 2012 Summer Of Going Just About Everyplace (after Rioja, I'll be heading over to Crete after only a short break, presumably because I like visiting debt-ravaged European economies).
I'll admit that I said yes to this trip primarily because Rioja is friggin' beautiful. I'm also geeky over their white wines, which have funky, refreshing kung-fu. Also, apparently I'll be participating in a time-honored tradition (that's a European term for "huge party") in which people douse one another with wine (trust me, I will be trying very hard to get that on video without rendering my vid cam totally useless), and have been advised to bring clothes "that I don't mind leaving in Rioja forever."
But I also accepted it out of regular ol' curiosity, specifically around how well the Old School (roughly translated as "age the hell out of Tempranillo in big oak casks & then wait for it to mature in about a gazillion years") and New School ("make modern, silky reds out of Tempranillo that are ready to drink now") methods of fine red winemaking are (or aren't!) getting along over there.
I think that we wine nerds are prone to pick on Rioja reds as being a bit played-out, and I've certainly done my fair share of complaining that lots of Rioja Tempranillo tastes less like Tempranillo than it does the oak that it's been aged in for a gazillion months. But in doing so we forget that the "modern" Rioja wine industry is, from the point of view of the USA, hardly thirty years old…
With the plethora of Rioja on store shelves these days, it's pretty easy for us wine lovers to have short memories. Spain wasn't always a bastion of modern tourism and exported winemaking – she transitioned to a democratic government only recently, in the late 1970s / early 1980s, at a time when many reading this were still racing home from the school bus drop-off corner to catch episodes of Star Blazers (that's what I was doing, anyway). Spain had at that time only three wine region DOs, including Rioja – with fewer than twenty of those Rioja bodegas exporting their wines to the U.S.
To say that Rioja is played out is to ignore the fact that it hasn't really been playing all that long in the U.S. market writ large. Yes, despite the fact that some of the bodegas there have been making wine consistently for well over a hundred years, and despite the fact that viticulture in the region is so ancient that historian Roger Dion has raised an argument that the progenitor of Bordeaux's most important red wine grapes actually originated in Rioja, the cuttings of which having been brought to Bordeaux by the Romans.
So I (and a fair number of others) should probably be cutting Rioja a bit more slack; media-coverage-speaking, of course. But only from the media standpoint…
Because I don't expect they'll extend me the courtesy of any slack on the Wine Battlefield, and so as far as I am concerned it's GAME ON, BEEEATCHES when it comes to squirting that much-loved but also oft-maligned Tempranillo juice at the locals.
BRING IT, RIOJANS! ;-)
For more on Rioja wine and its history, check out Jésus Barquín's The Finest Wines of Rioja and Northwest Spain: A Regional Guide to the Best Producers and Their Wines as well as Ana Fabiano's The Wine Region of Rioja (I've received sample copies of both books, and both are helpful and pertinent resources on Rioja wine, for the curious).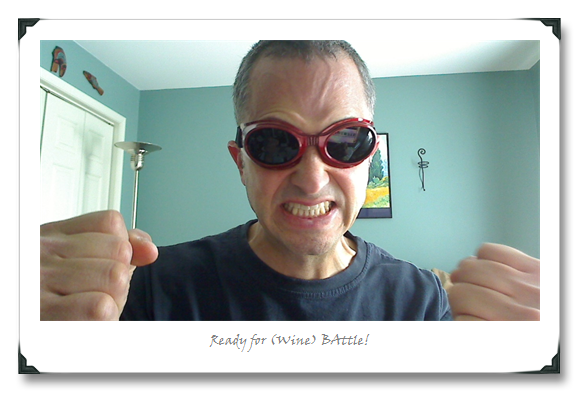 Cheers!