I will probably never fully comprehend the logic behind scheduling #SangriaDay in December, while #RedWineDay is in August. But August 28th is Red Wine Day, and I was asked to provide a few red vino picks on that day for a live segment on Fox 29's Good Day Philadelphia.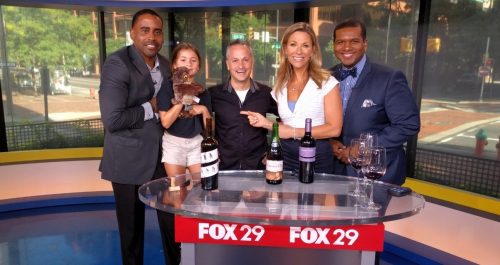 For those of you who don't spend much time behind a camera, these TV spots are usually frenetic, fun, fast-on-your-feet affairs. I have, of course, a huge advantage in these scenarios: I'm talking about a product that pretty much no one hates, and almost everyone is more than a little anxious and happy to learn more about and discuss.
As I like to say not infrequently about the wine world's penchant for attracting happiness: we're not exactly selling coffins here.
Personally, I think that  was most excited to bring my daughter Lorelai, who at first (presumably from never having known her father not to do things like play music on stage or appear in videos) seemed completely nonplussed over the entire thing. Our initial conversation went something like this:
Me: "Hey, toots, I'm going to be on TV; do you want to come to the TV studio with me?"

Lorelai, not looking up from playing a game on her iPad: "Not really."

Me: "We get to ride in a limo."

Lorelai: "What?!?? Yeah. I wanna go!!"
Anyway…
…Below is a video recap of the brief segment. Long story made short, the wines that were supposed to be featured had trouble arriving on time (because, well, Pennsylvania), so at about 4:45AM the day of I found myself pulling some PA-available wines from the basement sample pool:
Good Day Philadelphia Aug. 28, 2016 – #RedWineDay
Oh… for the record, Lorelai reported that the limo ride exceeded her expectations.
Cheers!