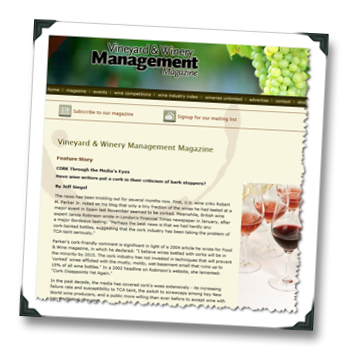 Last week, Vineyard & Winery Management Magazine ran a featured story titled "CORK Through the Media's Eyes: Have wine writers put a cork in their criticism of bark stoppers?" written by WineCurmudgeon.com's Jeff Siegel.
The story (in which I'm briefly quoted) asks whether or not the natural cork stopper industry has reached the point in which cork taint is largely a thing of the past.  I provide the role of "contrarian opinion" in that I still see the rate of cork taint as an issue with which the cork industry needs to more effectively deal.
I've got nothing against natural cork closures, mind you.  In fact, I suppose that I prefer them in a nostalgic, "Django Reinhardt playing softly in the background while I retire into my brushed-canvas sage Pottery Barn love seat" kind of way.  I have grown totally convinced that screwcap enclosures are totally sound for long-term storage of fine wines, and I sure as sh*t don't like synthetic corks and wouldn't trust them to keep a wine long-term any further than I could comfortably spit a rat (don't visualize that if you can help it – nasty).
I think for me this is a problem of "once bitten, twice shy" in that I've encountered what I consider far too much cork taint-affected wines – while the percentage is tiny, it's still too high; certainly higher than what we'd consider acceptable in other food-related products.
I'd love to hear your take on this – is cork taint going the way of the dinosaur?  Or is it alive and (un)well in your cellar?
Cheers!
(images: vwm-online.com)