Everybody knows that I "love" the Pennsylvania Liquor Control Board [ Editor's note: this is a boldfaced lie; I think the PLCB acts like a Communist monopoly and therefore I actually hate the PLCB ].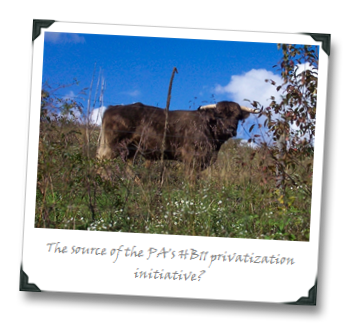 At least, I loved the recent move by Governor Tom Corbett to appoint Joseph "Skip" Brion (that's his real nickname, by the way) the new PLCB Chairman, since both Corbett and Brion appear to be in favor of privatizing the state Commonwealth's monopoly alcohol sales system – and they're supporting House Bill eleven (HB11) which seeks to amend the existing Liquor Code "providing for the privatization of sales of wine and spirits in this Commonwealth through abolition of the State Liquor Stores."
But as much as I'd love to see privatization take hold and the free market rein when it comes to alcohol sales in my home state Commonwealth, it's become clear to me that, technically speaking, HB11 is actually not in the best interests of PA's wine-consuming public; I would describe HB11 as Bull Honkey. As in, a big, stinking, steaming load of Bull Honkey.
Why?  Two reasons, my vino-loving friends, neither of which portends any favorable outcomes from HB11 when it comes to actually letting the free market into the ring of PA's liquor sales and distribution…
Reason the first: Direct shipping? What direct shipping?
HB11 won't do a bull honkey's worth of diddly-squat when it comes to allowing PA resients to buy the wine they want, when they want it, and have it sent to their homes so that it doesn't languish in some overheated PLCB storage area somewhere before they have a chance to enjoy it.  As anti-PLCB blogger Lew Bryson put it on his blog (emphasis is original):
"If it [ HB11 ] passes as is, Pennsylvanians are still forbidden by law to bring home a bottle of wine from New Jersey (or Maryland, or Delaware, or New York…). I've been assured directly by Representative Turzai that the police will no longer enforce this, but that's not good enough. You're a legislator; don't tell me the police won't enforce a despicably un-American law; change the law."
Exactly, Lew.  Why agree in principal not to enforce a law that stays on the books? That makes no sense, and any reasonable person would probably consider that as not really being above-board; it might be a royal pain in the bull honkey organ, but let's just change the law to reflect reality and do the difficult work of cleaning up the bull honkey instead of sweeping its smelly action under the carpet.
Reason the second: Licenses? Sure, if you're a big (BIG) business
The big issue with the liquor store licenses in HB11 is that theren't nearly enough of them – the bill calls for only about 1250 of the suckers.  That doesn't sound too bad on paper, but on the street it will seriously limit the amount of stores throughout PA's 46K some-odd square miles.
What's worse, and what firmly lodges HB11 into bull honkey territory, is that just over half of the licenses (750 of the 1250 Class A) would apparently have to go to stores that are over 15,000 square feet in size.  Here are snippets from the text of Subarticle C:
"…The department shall be authorized to issue 1,250 wine and spirits retail licenses to successful bidders in the retail license auction process… Class A licenses shall authorize the operation of a retail wine and spirits store in a specific retail zone in an establishment that exceeds 15,000 square feet of retail floor space…"

What… the… F*CK?!??
We are not talking about electrical plants or hospitals here, folks, we are talking about stores that sell booze. Why the government would have to effectively mandate store size is beyond me… or is it?… Actually, when taken with the small overall number of licenses in the bill, HB11 makes total sense if your goal is to squeeze out smaller, independent liquor stores in PA in favor of big chains – and that, my friends, is bull honkey of the highest order.
All in all… it's yet another sad day to be a wine lover living in PA…
Cheers!