By the time you're reading this, I'll be on the Greek island of Santorini (press junket via Wines of Santorini and the Brand Action Team) to get a first-hand view of Greek wines, Greek wine history and winemaking, and seeing if I can vigorously outrun anyone offering me a glass of Retsina.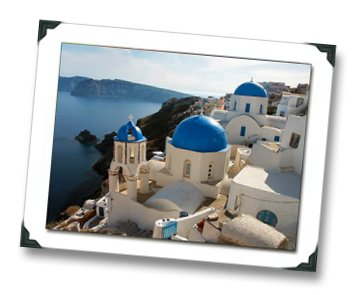 The Greeks have, of course, been making wine since ancient times, not that you'd know it from any recent marketing pushes (or lack thereof) made by Greek winemakers and/or the region in general. In fact, at first blush I'd say that Greek wine generally (and wines from Santorini in particular) has a very rough and very long marketing road ahead of it if it wants to wine over the American market.  Look at it this way:
There has been little-to-no effort to exploit the amazing history, breathtaking winegrowing landscapes, and food-friendliness of Greek wines.
Most wine stores in the U.S. treat Greek wine as an afterthought, giving it little shelf-space likely due to the fact that it doesn't sell like hotcakes because…
…consumers are scared to death when they see grape names like Assyrtiko, Mavrotragano and Nykteri that a) they can't pronounce, b) most wine pros can't pronounce, either, and c) they have no idea how they taste because so few restaurants offer them.
Adding insult to injury, regions like Santorini sell the majority of production and therefore have little incentive overall to compete on price, which is usually $5-$10 more than comparable wines on the shelf made from grapes that consumers in the U.S. can pronounce and are familiar with.
Yeah – not quite as rosy a picture as those photos of the Santorini sunsets, is it?
We'll see soon enough, I suppose – more reporting to come!  In the meantime, we've got Walla Walla coverage and an amazing interview coming up this week here on 1WineDude.com.  Enjoy!
Cheers!
(images: theodora.com)