Today… well, today is all about downtown Oakland's vinous urban success story, Dashe Cellars – because YOU demanded it.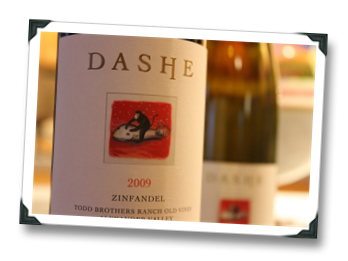 Well, technically not YOU exactly, unless you're Martin Dredmond. Martin was one of two winners of the 1WD ZAP 2012 Zinfandel Festival tickets giveaway, in which the ticket winners also determined which Zinfandels I would be reviewing next.
And if you are Martin Dredmond, I owe you a bit of an apology, because I was unable to get my hands on your exact Zin review choice, husband and wife winemaking team Michael and Anne Dashe's Les Enfants Terribles McFadden Farm Zin. But I did manage to get my hands on samples of four of Dashe's other (low-production) wines, two of them being (very, very good) Zins – which I am gonna consider close-enough-for-government-work and declare my review debt paid in full (and which I think is more than fair, since Martin picked a Zin made in quantities under 200 cases a year!).
Anyway, Dashe Cellars itself is an interesting case regardless of ZAP ticket connections: Michael Dashe cut his wine teeth at CA's Ridge, Bordeaux's Lafite-Rothschild and New Zeland's Cloudy Bay (I wonder what his frequent flier miles totals look like…), and Brittany-native Anne studied oenology at the University of Bordeaux, going on to work at Chateau La Dominique and Chappellet. There's something like forty years of wine-related experience between the two of them, which doesn't explain why they settled to place a winery just off of Jack London Square in Oakland, but does help explain why their wines are so damn… tasty…
Interestingly, the Dashe's favor native yeasts, low SO2 treatment and smaller amounts of oak, which doesn't necessarily make them "Natural Wine" makers but puts them closer in proximity to that camp than farther away from it. I'm not prepared to credit that approach as being the prime mover driving the tastiness of their wines, but it sure as sh*t isn't hurting the situation.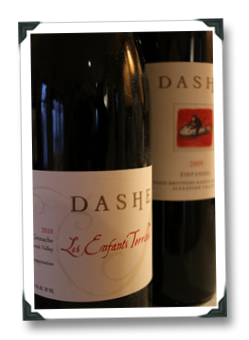 I should start with the two "honorable mention" wines from my tasting, because both are worth seeking out. First up, their 2010 McFadden Farm Dry Riesling ($20), sourced from high-ish elevation Potter Valley fruit on 30-year-old vines. According to the press material, the Dashes were shooting for Alsace with this wine, but what they hit is a thoroughly West Coast take on Riesling, and a thoroughly good one: peach, lemon drop, pears, apples and a pioneering spirit that's a dead-ringer for the better Rieslings coming out of Washington state.
On the opposite end of the spectrum is the 2009 Dashe Cellars Zinfandel Florence Vineyard from Dry Creek Valley($32). Younger vines, and tiny berries yielded this dark, jammy, chocolaty and spicy monster. As dense as it is with dark, black cherry fruit, it saw no new oak – and thanks to its enjoyably chunky-monkey tannins, you won't miss that new oak one bit.
And now… on to the stars of the show…

2010 Dashe Cellars Les Enfants Terribles Grenache (Dry Creek Valley)
Price: $24
Rating: B+
The "wild children" of its namesake apparently grew up into flirtatious, sexy – and even down-right dirty – women. The dirty part comes courtesy of a compelling earthiness (a trait that seemed to pervade, to some extent, all the Dashe wines I sampled) – a morel-mushrooms-type-of-thang intermingles with bright, lush, feminine strawberry fruit and a healthy heaping of peppery spiciness. C'mon, what did you think I meant by dirty?? This Grenache is youthful in its freshness, but that belies a sense of… seriousness, and experience. No, it's not porn in a glass, but it's certainly a bit of sexiness in a glass (and like a sexy lady, it won't have any trouble winning over a dinner table – this red is surprisingly food-friendly, even standing up admirably to marinara sauce in my tasting). 247 cases, but worth the hunt.

2009 Dashe Cellars Todd Brothers Ranch Zinfandel Old Vines (Alexander Valley)
Price: $32
Rating: B+
Put simply, this wine is a bad-ass. This is contemplation-worthy Zin, folks, complex and even a shade demanding. There's chocolate, herbs, that digging-in-the-garden earthiness, and a heap of black plums and black raspberries for good measure. If there's a minor cavil, it's that the pepperiness is a bit subdued, but the dark fruit and hint of meatiness make up for it. There are plenty of tasty Zins tailor-made for the barbeque; this is not one of those Zins. This is a Zin to sip when cranking Beethoven's Late String Quartets and contemplating the eventual catastrophic implosion of the Universe. 774 cases, which is bordering on huge production for these guys.
Cheers!