"They already got themselves a woodchuck today."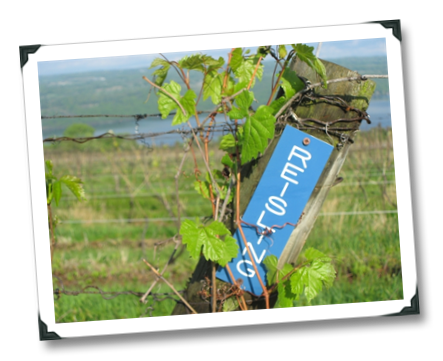 Sam Argetsinger was leading a slow but determined downhill walking pace, flanked by his two dogs who had done the woodchuck hunting before we'd arrived. He is stout, and affable, and his wide smile accentuates a face of weathered features. Sam's vineyard is small, relatively steep, and on the morning of May 8 it was playing host to a series of alternating bursts of warming sunshine from above, and strong cold breezes off of New York's Seneca Lake.
A group of thirty-odd wine writers and bloggers descended onto the area as part of TasteCamp East; I was part of a dozen-or-so who were taking a morning tour of Sam's vineyard on the second day of our trip. We had already, in a mere half-day, tasted dozens and dozens of Finger Lakes wines, some of which have been sourced from Sam's vineyard.
"The other thing about woodchucks," added Sam, stopping briefly and turning to face a small number of our group walking closest to him, and uttering the words without a modicum of sarcasm, "is that they're delicious."  We laugh, of course – most of us aren't farmers and none of us has ever tasted woodchuck.
"Must taste like chicken!" one of us says.  Sam's response – again without hesitation and appearing completely genuine: "Naw – it tastes like muskrat, mostly."  Sam then briefly explains how woodchuck gut can be employed to create a fine-sounding drum skin.
Welcome to the Finger Lakes, folks, where the water – carved out of the land like the claw marks of angry gods by retreating glaciers eons ago – runs long, narrow, and deep, like the traditions and views of the region's people.
It would have been easy to joke that a Fingers Lake red is the best thing to pair with that woodchuck (or muskrat), given the past history of red wines from the region.  And there certainly is nothing about Sam's vineyard that would suggest anything other than the belief that This Is Riesling Country: from the steep plantings facing the water, to the heightened amplification of every nuance of viticulture – aspect, elevation, light exposure, ripening… we might as well be in the Mosel, right?
Exactly what you'd expect of the Finger Lakes.
That is, until you taste the wines that aren't Riesling.  Until you taste the region's new reds…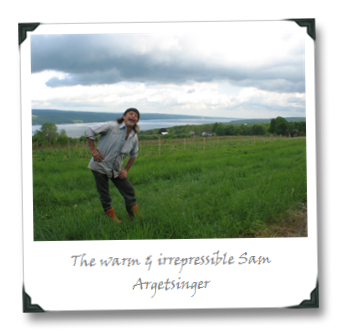 Times are (slowly) changing in the Finer Lakes, and red wines lovers need to pay more attention to the region now, especially if their tastes run towards the European style of balanced, high(ish)-acid reds.
Seeing red in the Finger Lakes?  Are we crazy?
You probably won't think it's such an insane idea once you try the wines. And you need to bear in mind that the logic behind making fully ripe and balanced red wines in a cool-climate area has hundreds of years of practical evidence behind it.
"It's only in the U.S. that the situation seems reversed," Morten Hallgren, winemaker at Ravines Wine Cellars (and customer of Sam Argetsinger, whose Riesling Hallgren uses in a promising single-vineyard bottling) told us during a portfolio tasting at Ravines' lakeside tasting room. "In the rest of the world, it's the cooler climates that are known for excellent fine wines, and only in the warmer climates where fruit-driven, everyday drinking wines are made."
In a bit of balanced, high-acid counterpoint to the West Coast's low-acid, bombastic reds, Hallgren offers an earthy, spicy Pinot Noir that doesn't lack in mouthwatering fruit or mouthwatering acidity, the latter coming from the cool climate ripening, the former from lyre-trained trellising that increases the surface area of light exposure for the grapes by about fifty percent.  His Cabernet Franc is lush without being plush, fruit-driven without losing a touch of elegance.
There are, for sure, still some bad, bad, gawd-awful, pour-them-down-the-drain reds being made in the Finger Lakes, many ruined by an oak treatment that obliterates the lovely fruit characteristics and potential with a blitzkrieg of smoke.  Others handle things in a more balanced way – and if balance is what you're after, you'd do well to check out the reds on offer from Shaw (a focused and structured Cabernet Sauvignon), Red Newt (full and rich Cabernet Francs) and Red Tail Ridge (a surprising and lively Pinot Noir that could pass for Oregon in a blind tasting).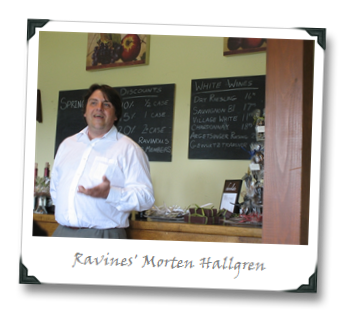 The reds of the Finger Lakes are still the icing on the cake of their Riesling, but just as it's folly to write off the region's reds, it's also not a smart play to assume all of its whites are superb.  Even the region's premier and most consistently good producer, Hermann Wiemer, is capable of the oddball white among the majority of its lineup of clean, intensely focused and lovely Riesling bottlings.
Few whites where as bad as the worst reds, but many of the best reds were just as good as the best whites – and that is not a situation that most wine lovers would be expecting to find themselves in when touring the producers who call this beautiful area home.
Among the whites, several producers showed well in the Riesling department, such as Wiemer (especially the single vineyard offerings), Anthony Road (their "MRS" Berry Selection late harvest is a beauty), Heron Hill (Ingle vineyard Late Harvest), and and Lamoreaux Landing (whose `09 Red Oak vineyard offering was one of the most balanced I'd ever tasted from the Lakes).
You might think that giving a cursory view to Finger lakes whites, while waxing (sort of) poetic on its reds sounds as crazy as eating woodchuck (or muscrat).  But let's see you try some of the finer examples before you pass too much judgment.
I'll forgive you if you still pass on trying the muscrat.
Cheers!