Pssst.
Hey, Napa Cab.  Yeah, you. 
You better watch yer back!
That's the underlying theme that I gleaned from a recent report by research group Wine Opinions.  The report was introduced at the last Wine Industry Financial Symposium in Napa.  There's been a good amount of interesting discussion on the 'Global Interwebs' about the report's list of top wine bloggers, measured by how frequently the blogs were visited by the wine industry respondents who contributed to the report survey.  I should note that the top 2 bloggers in the report (Eric Asimov and Eric Orange) aren't technically bloggers… which probably says something about wine blogging but that's fodder for another post (or another blogger)…
Anyway, the report, titled Tracking the Trends of the Wine Trade, collects the views of wine trade insiders (mostly male, and mostly Boomers) on the current state of affairs in the world of wine.  Outside of the report's take on the movers & shakers of the wine blogging community, not much has been mentioned about the report's implications on the wine industry itself, and on Napa wine in particular, or more specifically on Napa Cabernet. 
This is where it helps to know one of the report's participants, because the report potentially says a lot about how the wine industry, and its customers (that's you) are viewing Napa Cab right now.  The Wine Opinions report has a message for Napa Cab. 
And that message is… Watch your back… Washington is fast at your heels…
Consider this excerpt from the report, which graphs where wine industry insiders are going for alternatives to luxury (read: pricey) Napa Cabernet Sauvignon during this time of "economic recovery (click the image to 'embiggen'):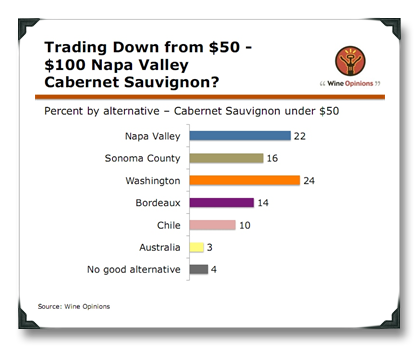 That's right, folks – in lieu of consumers having to skimp on mortgage payments to fork over enough dough to feed their luxury Napa Cab habit, wine industry types are seeing Washington as a viable alternative to supplying over-achieving Cab for not-so-luxurious price points.  Sonoma, Napa's oft-underappreciated and often more down-to-earth neighbor, comes in a close second.
Check out what some of the respondents had to say as quoted in the Wine Opinions report:
"My customers are moving away from Napa Valley Cabernet because they get better value from other regions such as Walla Walla, Washington."

"There are too many 'me-too' Napa Cabernets on the market and Sonoma offers a great alternative with a solid reputation for quality wines."

"Napa Valley Cabernets are the best in the world but have been overpriced. There are a tremendous number of quality Napa Valley Cabernets in the $35-$40 range."
And my personal favorite:
"Washington State is swarming with boutique wineries and they have a great terroir for balanced Bordeaux style wines."
That one is particularly interesting because it suggests that WA is offering a different style of wine for the Consumer who might be both wallet fatigued and palate fatigued by Napa Cab.  Now, I love me some Napa Cab, but I also love me some WA Cab, and I really love me saving the depletion of my wallet.  Come to think of it, I especially love minimizing separation of my foolish self from my hard-earned cash when I'm buying either of those wines.
As for the question of whether or not consumers are 'trading down' from the luxury market in the first place, the Wine Opinions report leaves little to the imagination on that one.  The majority of wine industry respondents cited in the report are selling way less wine over $20, and way more wine under the $20 threshold:
While I haven't gathered any detailed statistics myself, I don't think I'm too far off to state that the Napa luxury Cab market has a lot of wine in the over $20 category.
As for the Wine Opinions report, is it sobering?  Yes.  Are the findings unexpected?  Well, not really – especially if you've been making, selling, or drinking wine from Washington state. 
Thoughts on WA vs Napa, over $20 vs under $20 value in wine, or value in Napa Cab in general?  Shout 'em out in the comments!
Cheers!
(images: Wine Opinions)