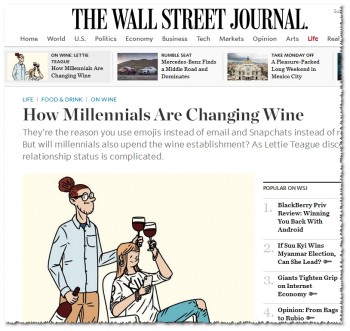 If you read Lettie Teague's recent WSJ column entry, titled How Millennials Are Changing Wine, you will find some interesting data suggesting that Millennials are not, in fact, changing wine nearly as much as many of us think that they are.
First, you'll have to wade through polemics such as the opening quote from New York sommelier Jason Jacobeit, who decries his generation's focus on feeling connected to a brand when it comes to purchasing wine: "A lot of mediocre wine is being sold on the basis of a story."
I've got news for you, Jason: "a lot" is too subjective a term (a lot of money to me, for example, isn't a lot of money to Bill Gates), and "mediocre" even more so, but based on what we know from real wine sales numbers, a lot of wine that we might generously call "so-so" or "mind-numbingly-boring" is sold to every generation of wine drinkers, in volumes that far eclipse what we might collectively think of as higher quality – or at least more interesting – vino.
Back to Teague's WSJ piece: I'd also advise you to skip the latter section of the article, in which Lettie recounts a tasting with a "mini-focus group" of millennial wine drinkers. Given that this group consisted of "two men and two women ranging in age from 25 to 32," it's laughably dangerous from a statistical standpoint to draw any conclusions whatsoever on millennial wine drinking habits from the results of their conversation.
The real meat of the WSJ article lies in the sneak peek that it gives to an August Wine Opinions study of 2,634 wine drinkers, spanning in age groups from Millennial to Gen X to Baby Boomer. Through that study's results, we get some fascinating insights into how U.S. wine drinkers actually approach buying their wine…
Here's the ripe-from-the-vine, bursting-with-sugary-flavor, juiciest tidbit (emphasis is mine):
"…only 17% of millennials care what a wine columnist like me says. In fact, just 22% subscribe to a print wine magazine or newsletter—that's about half the percentage of Gen Xers (41%). All three generations, however, surf the Web for wine information. Interestingly, baby boomers and Gen Xers went online even more than millennials, with 65% of Gen Xers looking on the Web, versus 61% of boomers and 50% of millennials."
My first reaction to this was something along the lines of HOLY. F*CK!
Consider the take-aways:
While less than a quarter of wine-loving Millennials give a rat's tush about wine columns, newsletters, or glossies, half of them go to the web for their vino info.
More than half of Gen X and Baby Boomer wine drinkers hit the web for wine info. While not to be ignored, Gen X is often thought to be a bit less important than the presumably larger generations that book-end it; the 61% of Boomers and 50% of Millennials are very large numbers in wine-buying terms.
Another interesting tidbit that Teague quotes from the upcoming Wine Opinions data that should have many of us wine-types putting down their glasses and putting on their thinking caps (again, emphasis is mine):
"…when asked if they would buy a bottle they'd never tried or a new wine by the glass, 86% of millennials said that they would; 72% of baby boomers said they would, too."
Holy. F*CK!
In general, experience has shown me that the wine biz has been operating under the premise that Millennials will try almost anything, while Boomers are more the cash-cow-buy-the-same-thing-by-the-case-over-and-over-and-over-again type. But either that view is wrong, or it was once true but is now becoming wrong.
If Boomers are potentially changing their tried-and-true wine buying habits and converging on the gimmie-something-new-dammit style that has been attributed to Millennials, then we need to seriously consider that it's not "millennial" to be willing to try something new and unfamiliar when it comes to wine.
The (over?) confidence of Millennials in their buying habits perhaps comes not from a generational bent, but from the convenience of having instant access to almost the entire summary of human knowledge via any cell phone with a data access Internet plan. Which is the exact same service that's available to Gen X and Baby Boomer wine drinkers.
Are Millennials changing the wine world? Maybe, but I think it's less a case of who they are and more a case of their willingness to be the first to adopt a new way of looking at the world: skeptical and cocky, because it's so easy to call any seller, brand, or personality out on their bullshit, and/or to gain detailed information on even the most obscure wine purchase options, so long as they have a functioning cell signal.
It's a way of approaching buying anything that is being adopted in droves by those of us who are older than Millennials and are happy to line up behind their lead (thanks, guys!). Bottom line: Millennials may have just been the first to utilize the available tools to drive wine purchasing trends that are actually much more universal, and more popular than the wine biz has yet realized (dear up-and-coming wine regions: you ought to be sending them Thank You cards… just sayin'…).
Free your information, and your ass – wallet and all – will follow!
Cheers!