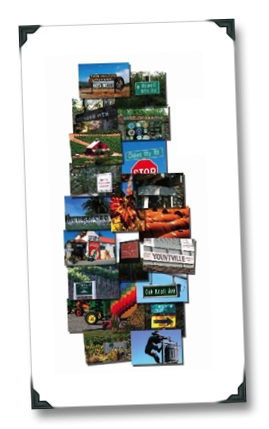 At the 2010 Professional Wine Writers Symposium (yeah, I know… that topic again?!??), the Napa Valley Vintners (a non-profit trade organization that promotes its members wines and the region as a wine powerhouse generally) hooked us (the attendees) up with wines produced by their various association members.  A couple of random bottles of what-have-you in the SWAG bag, basically (I think mine contained a Cakebread Cab and Lieff Cab as well).
At one of the "Postprandial Hospitality" (read: "after-party") tastings, a few attendees noticed a slew of goodie bags stacked in the corner of the room.  They were, apparently, extras, and we were encouraged to grab wines out of them as samples if we liked.
I used it as an opportunity to rummage for labels that I hadn't had opportunity to taste yet – which is becoming more difficult for me when it comes to California wine – and managed to find a few intriguing bottles.  One of which was a wine named FOURTEEN from 13 Appellations.
Clever, I thought, probably mixes juice from all of the Napa AVAs.  Then it was back to the madness of the Symposium and Premier Napa Valley.  FOURTEEN was relegated to a bag, then a box, then to the OAK airport luggage system and the belly of at least two different Southwest airplanes before being shelved unscathed into my basement.
Of course, I'm late to the party (as usual) and it turns out that 13 Appellations has been doing this since 2002, dedicating the wine to the late husband of one of their partners, Kristi Seitz of Brookdale Vineyards.  Leave it to me to casually bump into a budding Napa Valley institution, as it were.
Whatever, I was just lookin' for some tasty juice, alright?!??
Anyway… After retrieving the bottle of FOURTEEN several days later from its temporary cellar banishment, I became much more intrigued about the concept of this wine.  After all, this is something that could bring together some of the best aspects of Napa's diverse soil and temperature profiles; or it could be something that tries so hard to be everything that it ends up being a nothing; instead of transmitting a sense of all Napa places, it might convey a sense of being from nowhere in particular.
So, which is it?  How is this wine?…
It's expensive.  95 bones a bottle (ouch!).
It's also totally works as an olfactory and visceral tasting trip through the Napa Valley.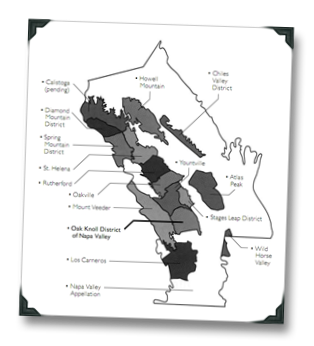 The nose immediately identifies it as a high-end Napa Cabernet blend – dense black cherry, spicy oak, vanilla, cocoa powder.
Then it starts to change.  A tiny hint of violets.  A little alcoholic heat. Black raspberry.  Take a sip, and you get similar transformations, some tannic grip, a little more of the violet on the mid-palate.  It's kind of a mind-f*ck, unless you let yourself go and just appreciate the sensory "view" of the trip.
Although all 14 Napa appellations contributed fruit to the blend (60% Cabernet Sauvignon, 19% Merlot, 15% Petit Verdot, 4% Cabernet Franc, 2% Malbec), the most readily identifiable elements (for me, anyway) were the Oakville and Rutherford components (10% of the Cab is from Rutherford's Morisoli vineyard) on the nose, and the mountain tannins on the palate (there's a splash of Duckhorn vineyard Howell Mountain Cab in here, and an equal amount of Mt. Veeder Cabernet Franc as well).
I don't like the heavy price point, but I understand it, though I'm not going to say that I think the wine is empirically worth it.
The wine is drinking beautifully now, I suspect in 5 years it will smooth out a bit, but I'd also say I'd expect more longevity potential at this price point (maybe it will prove me wrong).  There was also a teeny-weenie bit of VA on the nose when I tasted it on day two (bad), but also a lot more pleasant dried black fruit action (good).
Over-priced or not, one thing is for sure: I won't be ignoring 13 Appellations (or casually underestimating them out of unfamiliarity) ever again.
About 1000 cases were made – you can purchase the wine online.
Cheers!
(images: 13appellations.com)