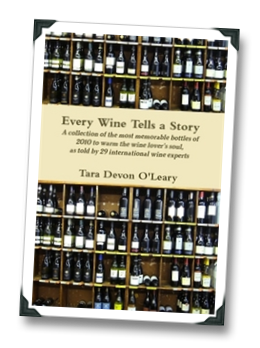 Occasionally in the wine media world one gets asked to contribute to articles, news stories, wine lists and wine picks.  I've done this several times (recently for Sommelier Journal, for example) because I like to help people out if I can, and when it comes to Going Pro it doesn't hurt to have your name in the public eye and mind of the wine world (more on the pros/cons of that approach in a future Going Pro article).
Those contributions are almost always uncompensated, as was the case in my latest – a two-page blurb that I gave to London-based sommelier and consultant Tara Devon O'Leary (at her request) for her newly-released book, Every Wine Tells A Story.  Well, uncompensated unless you count the copy of the book that she gave to me.
Like another wine book recently reviewed on these virtual pages (A Feast At The Beach), Every Wine Tells A Story is a series of short, vignette-style pieces, though the focus is squarely on wine and the vignettes are supplied by twenty-nine wine personalities that include sommeliers, print journalists, bloggers, winemakers and wine merchants.  Each story details something interesting about a particular wine recommendation and why (and how) it touched the author in some way.  There are some great moments in this little book, and greater still are the wine recommendations, many of which are readily available (though some, like the 1971 Domaine Romanee-Conti picked by Judgment-of-Paris legend Steven Spurrier, are well beyond the reach of all but the richest among us).
I'm mentioning this book today because my contribution is a love-letter to the same wine that I recommended to Sommelier Journal's 2010 wine list article (the 2007 Quinta do Vesuvio Vintage Port), and so it seemed appropriate for Valentine's Day.  Plus, having recently returned from Portugal, I've got Port on my mind (and, no doubt, a serious amount of cholesterol in my blood from three square meals of insanely tasty meat dishes each day).
Anyway, Every Wine Tells A Story is worth a look, and like A Feast At The Beach offers a nice break from the overly-weighty, serious tomes in the wine book lexicon (it also offers similar "bathroom reading" potential; yes, I did go there… again).  Around $13.
Cheers!