Little sweet one…
I'm not talking about me.  Or Plumboo (that's the monkey – who, now that my daughter is old enough to play with her toys, has been M.I.A. somewhere in her bedroom).
I'm talking about a grape from Piedmont. More on that in a minute.  Or two.
Plumboo (in spirit) and I (physically) are taking part in the 54th edition of the venerable blog carnival Wine Blogging Wednesday – this month hosted at fellow Philly-area blogger David McDuff's Food & Wine Trail.
David has picked an exciting theme – "Passion for Piedmont."  It's not just exciting because I get to return to Tales of the Purple Monkey and drink Italian wine – which is exciting in and of itself, to me at least – but because David has decided to focus on what is arguably the most exciting wine region in Italy right now.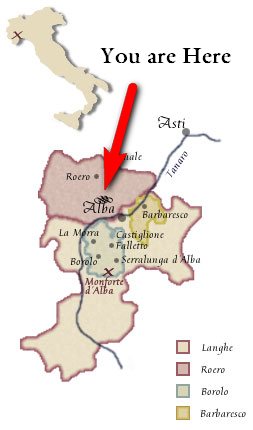 It wasn't always like that, though.  Piedmont wine-making began sometime before the 13th century (started by the Etruscans or the Greeks – no one knows for sure which – followed by monks after the fall of the Roman Empire), but the wines weren't considered to be particularly good (Piedmont doesn't even get a mention in Pliny the Elder's list of best Italian vino).
My, how times have changed…
Tradition, geographical diversity, and modern wine-making techniques have combined to make Piedmont one of the most varied wine regions in all of Italy. As you will no doubt find from other wine blogger's choices of wine reviews for this edition of WBW, Piedmont offers a staggering choice of wine styles from sparklers to everyday sipping reds to age-worthy, must-own-your-own-yacht priced Nebbiolo-based reds to sweet Passito dessert 'stickies.'  This doesn't account for the wide variety of styles within those styles, either.
Sure, Tuscan wines, especially the reds, are sexy.  But so much of Tuscan red wine (Chianti, Vino Nobile di Montepulciano, and Brunello di Montalcino) are not so much variety as they are variations on a single theme – Sangiovese.  Now Piedmont – that's variety!
Since I can't try all of Piedmont's various offerings in one night (believe me, I thought about it), Plumboo (in spirit) and I (physically) opted for Piedmont's answer to everyday red wine – Dolcetto.
Dolcetto is one of the few low-acid Italian varietals, but it's high-octane fruit delivery makes it easily accessible early (even in the versions that are built for longer aging).  It's not sweet, despite the moniker, but most offerings (there are seven different production areas within Piedmont) fall into a category that is probably best described as a cross between French Beaujolais and jammy California Zinfandel.  Some are made as more serious fare, but Dolcettos are primarily fun wines, if a bit lacking in the sophisicated structure of other more "serious" Piedmontese reds.
For this WBW, Plumboo (in spirit) and I (physically) went with a high-production, readily available example: Pio Cesare's 2007 Dolcetto d'Alba.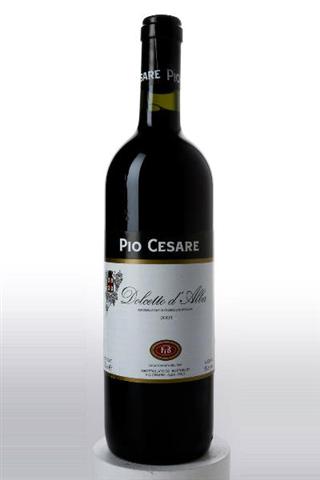 Our review:
It's dark, like most Dolcettos, and on the nose offers alternating waves of candied fruit and black cherry, with some floral and spice elements to keep it interesting.  On the palate, the wine is agreeable, with a very drying finish.  Not really integrated or focused, but pleasing on the whole.
Fun and accessible, but not mind-blowing.  What do you want for $18, anyways?  Instead of Merlot, try picking up some Dolcetto party-making magic for your next get-together, and enjoy the long stares of approval at your sophisticated wisdom from your dinner guests.  You're welcome!
For more on Piedmont wines, check out Bastianich & Lynch's Vino Italiano.
Cheers!
(images: 1winedude.com, justerinis.com, dotcomwines.com)