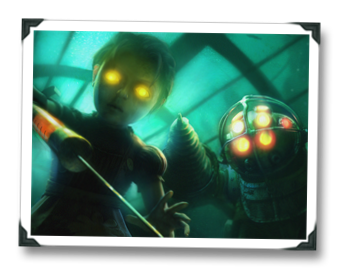 This may be the first time that anyone has compared a high-end inaugural Napa Cabernet with a creepy video game. Probably because no one has been quite foolhardy cavalier enough to try it before, right?
The wine in question is a sample of Wallis Family Estate's "Little Sister" Cabernet Sauvignon, which is seeing its first release with the bottling of the 2006 vintage; only 300 cases were made.  Wallis produces a (much) more expensive Diamond Mountain District Cab, hence the "Little Sister" moniker for the new release, a lower-priced (but still pretty expensive at $40) version that shares estate fruit with fruit from the wider Napa Valley.
And it was the "Little Sister" moniker that got me free-associating with the creepy video game.
The game in question is the award-winning Bioshock, which I stopped playing because, well, it's creepy. The game is beautifully rendered, and the play is fantastic, but… it was just so damn serious.
Let's see, for those unfamiliar with the plot of Bioshock, this ain't gonna be easy…
Bioshock takes place in the 1960s in an enclosed underwater world called Rapture where society has completely broken down. The survivors of Rapture are genetically-enhanced, murderous psychopaths who are addicted to the substances that allow them to control their genetic powers.  Spooky school-aged girls called (wait for it…) Little Sisters (with sea slugs embedded in their stomachs – yeah, I know, just go with it) roam the halls of the underwater world, protected by huge, explosives-tossing zombies in antique dive suits, wielding large needles which they (this is the Little Sisters now, not the huge dive suit guys) use to extract the genetic super-substance from any dead psychopaths they come across.  Whew.
I told you it was creepy!
Anyway…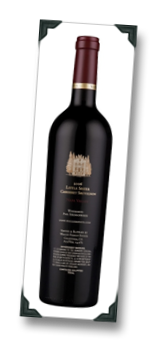 In my twisted mental imaginings, I saw the creepy Little Sisters extracting juice from the precious fruit of the Wallis estate – the same area whose fruit sources the high-scoring, Robert Parker darling Ramey and Lakoya wines – with the enormous zombie of a 92+ Parker score looming in the background…
"Grrrrr… suuuuperrrrrrrrrrrr exxxxxxtracteeeeeeeeeed… RAWWWWR!!!!"
I'm happy to report that Wallis' wines seem to be an area where Parker and I can quite happily agree.  Like the creepy Little Sister's Bioshock home, the wine is beautifully rendered. Unlike those needle-wielding Little Sisters, this Little Sister is certainly not creepy (though she is deadly serious).
Little Sister is, for sure, a big wine and a wine that is made to appeal to the palates of Parker and those who follow his ratings, but in this case it doesn't at all come off as a manipulation that ignores terroir at the expense of points (and therefore, higher prices and more sales); it seems more that the estate fruit just produces really ripe wines with dense, dried black & red fruits, notes of tobacco, sweet vanilla, and a good deal of fennel. I mean, like, "the entire bowl of fennel seeds & mint at the doorway on your way out of the Indian restaurant" levels of fennel.
The Napa fruit seems to give Little Sister its approachable, supple edge (as well as its lower price-point).  I find it totally acceptable that the wine is big and extracted, because in the end it does achieve a good balance – the $40 price tag actually seems fair considering the pedigree of the fruit and the care taken in making the wine.  The approach, I think, was to give consumers a more affordable glimpse into the style of winemaker Phil Steinschriber, much like the "second wines" of Bordeaux's top producers offer a more affordable sampling of the way in which their top-end, ultra-expensive wines are made.  In other words, if you dig Little Sister than you'll probably dig Wallis' flagship wine; if not, then you're only out $40 and somebody out to dinner with you when you pop it open will more than likely be willing to take home your unfinished bottle.  Wallis advises that the wine could cellar 4-10 years – I'd opt for the shorter end of that timeframe.
As to why Wallis chose to name their new release after a creepy video game character, I've no idea.  You can purchase the non-creepy Little Sister on-line.
Cheers!
(images: scroobyonline.co.uk, wallisestate.com)