"I was delayed, I was way-laid
An emergency stop
I smelt the last ten seconds of life…"

– The Smiths, "Stop Me If You Think You've Heard This One Before"
Sometimes getting a late start can be a good thing.
At least, that's the kind of thing that I like to tell myself when I finally get around to writing up a tasting almost five months after it happened.
Take Ehlers Estate winemaker Kevin Morrisey's foray into Napa Valley viticulture as an example.
Originally from Media, PA, he began his winemaking career at the age of thirty-five, when he enrolled at UC Davis to study oenology. Prior to that, Morrisey was a junior Hollywood cameraman, slugging out a living behind the lens in Paris and Los Angeles.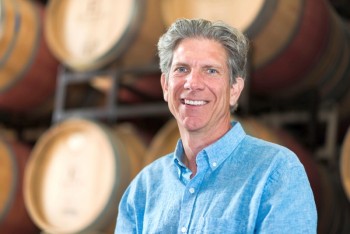 When I met him for a tasting lunch in NYC late in 2015, he struck me as the kind of Napa Valley personality that isn't attempting to hide any douchebaggery, simply because he doesn't seem to have any douchebaggery to hide. That might come from his Media childhood, or the fact that he's now making wine with "relative autonomy" (though Ehler's owners, Leducq Foundation, does require them to "be profitable"), or that he's still just tickled pink to work for a winery in the Valley that has a real backstory to it (Sacremento grocer Bernard Ehlers founded the winery in 1886, after paying for its 42 acres in gold coin).
"It's nice in Napa to have a stone barn that's actually, you know, real stone!" he told me.
And that, to me, kind of sums up the sense of genuine pride and confidence and non-douchey-moxie with which Morrisey presents himself; it's a sense that also permeates the Ehlers wines that he has made since coming on board in 2009.
To wit…

2014 Ehlers Estate Sauvignon Blanc (Napa Valley, $28)
"I hang my hat on this wine," Morrisey boasted when we tasted it. "A chef can throw so much butter and fat at this!"
While the (now organic) vineyard source for this wine is in a relatively warm spot in the Valley, the fruit is picked "super-early" according to Morrisey, and my impression was that you could pick a lot worse of a hat rack wine. While the warmer-climate melon flavors are all over this SB, there's also no shortage of pithy lime, with intriguing flint and grapefruit notes thrown in for good measure. It's authentic, maybe even a touch brash, but undoubtedly deliciously zesty (the latter being something that I'd not call a hallmark of the majority of Napa SBs).
Oh, we drank it with this (highly recommended, if you can manage it):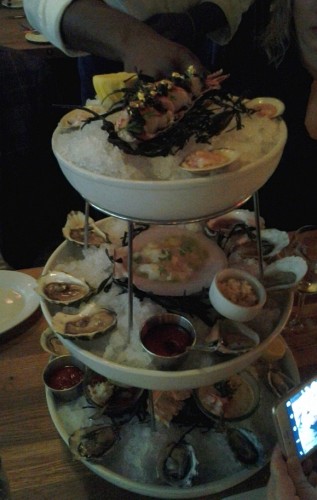 2013 Ehlers Estate Cabernet Franc (Napa Valley, $60)
I'm a bit of a stickler when it comes to my Cab Franc (hello, geek here!), so my shields were up and waiting on this one. Happily, it didn't disappoint. Yes, this is on the plusher, vanilla-laden side of things (hello, Napa!), but this is a Franc that was clearly in the hands of someone who gave a crap about Franc: textbook black cherry fruit, spices, dried herbs, and an underpinning structure that is serious, giving not only support, but also some gravitas to the rich, dark fruits above it.

2013 Ehlers Estate "1886" Cabernet Sauvignon (Napa Valley, $110)
Because, well, you have to have a sub-3000 case, expensive Cab release from your Napa Valley estate, or you will get arrested or something, right? The good news (aside from this having 8% of that compelling Cab Franc in it, I mean), is that this doesn't come off as an obligation-fulfilling red. At least, I don't think that one releases a pricey wine that is this angular and awkward-seeming now without having serious confidence in its potential.
This one needs only time; the best Napa elements are all in place. Lovely spices, powerful structure, freshness, focus, earthiness, black currant fruits to spare… and enviable length once those elements start to peeeeeeeeeek out there little heads, ever so tentatively.
Cheers!