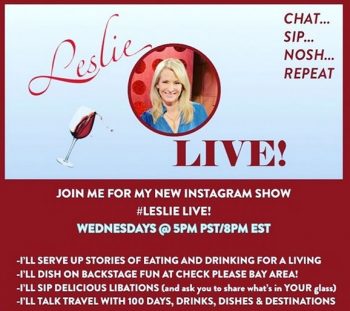 Last week, I had the fortunate honor to be the guest on Leslie LIVE!, the new lockdown-inspired live broadcast by fellow wine judge and author Leslie Sbrocco. I've had the fortunate honor to have known and judged wine competitions with the lovely Leslie for a decade, and she wrote a touching and thoughtful endorsement of the Wine Taster's Guide (for which I still owe her several cocktails!).
You can check out our wild, woolly, and wine-soaked interview on Instagram, in which we drink (of course!) and go into details about my recently-released books – if anything, it's a brief respite from arguing about politics online!
Speaking of the books, a brief update on that front: they managed to spend several weeks among the top ten new releases in Amazon's Wine Tasting category, with reviews well above 4.5 stars, so thanks to yo all! Also, if you're signed up for Kindle Unlimited
, you can already read the Wine Taster's Guide for an additional cost of $0.00 (you lucky dog, you).
Where you can grab the books:
My wines from our virtual soiree:
Cheers!