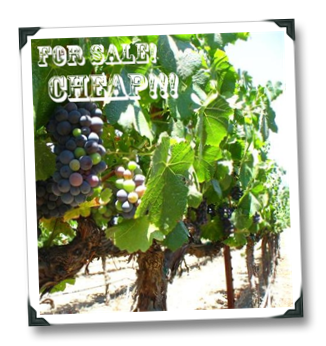 At first glance, saying that grape growers – being one link the overall supply chain that provides wine to consumers – would feel the pressure of the economic downturn and its negative impact on wine sales would seem like a no-brainer.
"Well… duh!" you're probably thinking, "If the economy sucks, and fewer people buy wine, wouldn't suppliers naturally suffer in terms of selling less of their product to wineries?"
Sounds reasonable, my astute friend.  You're one of those people that paid attention in Economics class.  I can tell.
But apparently that view is missing some of the complexity of the situation, at least according to recent stories in two major wine publications.
In July, Wines & Vines featured a cover story called Growers' Reality Check, which detailed the outcomes of a June Vineyard Economics Seminar held in Napa.  The picture was, in a word, glum.
Of the surveyed attendees, a meager 44% predicted an upswing in wine sales – down from 78% one year ago.
Last week, Wine Spectator's Tim Fish (who has yet to publicly attack me so I'll give him the benefit of the doubt!) reported on a glut in the wine grape-growing market in California.
The big swing was due, of course, to the economic downturn, which has seen consumers shift their wine buying patterns away form the $20 and up range and towards value wine brand territory.
"Wait a minute," you're probably saying, "if consumers are still buying wine, doesn't it mean that grape growers can still sell, maybe just at lower prices?". 
Not quite, my economically-astute friend… not quite…
The trouble, in a word, is inventory.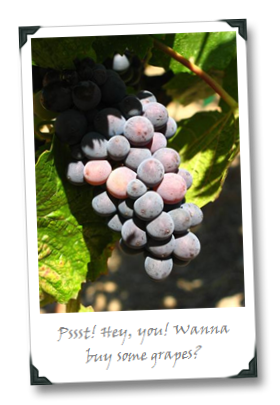 Sellers and wineries have too much $20 and up wine on-hand, it seems.  So they are ordering less new fruit for new wines.  Uh-oh…
Of course, that all still makes sense in terms of economic theory.  What might not compute with you, star economics student, is that the growers didn't seem to see this coming.
"Were they just not paying attention?" you're asking.  "Get your head outta yer grapes, for Pete's sake!"
Not so fast… not so fast… 
Just consider for a moment the issues that growers themselves cite as their top concerns, according to Wine & Vines.   Among the top five:
Water (coming in at #1)
Increased Cost of Doing Business (at #2)
Getting paid (#4)
The credit crunch actually pulls in at the bottom of their list. 
Think about it – if you're worried about something as fundamental as water, or as basic as getting paid for your crop, you're focused on the now, not on tomorrow.  Remember Maslow's Hierarchy of Needs?  Of course you do, you're the star pupil, remember?  Anyway, this stuff is textbook Maslow, baby!
So maybe we should go easy on growers for the moment, and forgive them their lack of economic foresight, tell them to plant less in the short-term, and brace themselves for lower prices when things do pick up a bit.  And not to swallow too much of their own nails before the biting stops.
Cheers!
(images: 1WineDude)