UPDATE: The Decantiere folks at unbiasedwine.com have offered 1WD readers 10% off the Decantiere if you purchase it at this link and use the coupon code 98NFUCQW at checkout.
Ok, so I am a weeeeeee bit late on the wine product round-up for January 2016 (I blame travel, and drinking, both of which constitute "work" in my bizarre-but-fantastic life).
This month, I've got only one product to feature; a small one, with a relatively big price, and even bigger aspirations: Vagnbys Wine Decantiere ($44).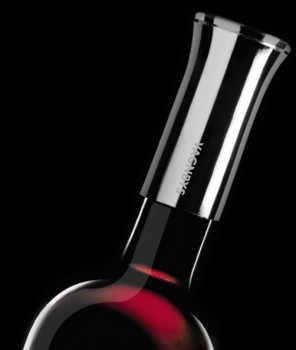 The Decantiere is billed as a "7-in-1" wine accessory, but I am having trouble fulling understanding what all seven of those functions are supposed to be, so I will rattle off the ones that I am sure that thing does after giving it the once-over in the 1WD test kitchen:
Non-drip Pourer
Aerator
Filter (for sediment, etc.)
Stopper (for storage)
That's probably good enough…
Anyway, it's made of stainless steel, TPR, PP and silicone, and seems pretty easy to clean (though I've not given it a go with a wine that had serious sediment, so your mileage may vary). From a design standpoint, the thing definitely looks good. It's also light, and doesn't make the bottle top heavy when you use it.
Too often, multi-use wine accessories end up not being very good at any of their functions, but the Wine Decantiere is a nice exception to that rule; while the aeration isn't superb, it's more than good enough to handle young red wines in need of some O2. The filter is a nice touch (though I suspect it will become difficult to clean with heavy usage), and works well, and not having to clean up pouring drips is always a welcome feature in my household. Finally, the stopper is, indeed, air-tight, which will help prolong the drinking window of an opened bottle maybe an extra day or so.
All in all, the Wine Decantiere is worth a serious look, but you're paying a premium for the construction material and the stylish design.
Cheers!