We wine geeks review wines in all manner of differing ways.  There's nearly as much variety in those review systems as there are in wine styles.  Points.  Stars.  In my case, grades and badges.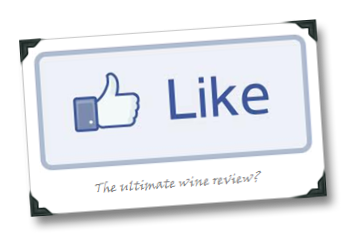 And we're social about it, too – CellarTracker.com is pretty much the world's largest wine review repository at this point (closing in on 2 million reviews at the time of this post), and for the most part it's populated with ratings penned by people who are not professional wine critics; they just want to catalog – and share – their thoughts on their encounters with world's most awesome beverage.
Seems to me the most social and dead-simplest wine review, though – one that even makes 140-character twitter reviews seem overly-verbose by comparison – would be the Like button.
Yes, I'm serious.  I think.
Of course, I'm talking about the thing that publicly alerts other Facebook users to the fact that enjoyed a post/status/photo/brand/etc. It might actually be more accurate to say that the Like button click means that you took a few seconds out of your busy day to tap on a button because other people also clicked on it, but that's not the Like button's fault (it's more human nature's fault).  You can lump Google's recent foray into the social approval space – the +1 button – into the same camp, and feel free to use that interchangeably here whenever I mention the Like button (the concepts are, from what I can discern, pretty much identical – let people know publicly what you like in a social setting on-line). And the concept is now ubiquitous on the 'global interwebs': even blog comment systems have them for individual comments.  The Like button also refers people who buy, and when it does they buy more stuff. Only a matter of time before it takes over the wine world, right?
No points, ratings, or even words.  You dig the wine, you +1 it; you enjoy sipping that vino, you 'Like' it.  Done and dusted, end of discussion.
Or is it?…
Wouldn't that concept take the discussion, detailed descriptors, and some of the joy out of a wine review and wine recommendations?
Yeah, I think it would.  Maybe.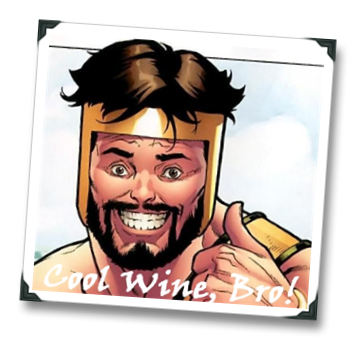 Which isn't the same thing as saying that we won't ever see it – in fact, I think we will, and on top of that, I think it's inevitable (if someone isn't working on it already, they probably will be after reading this).  Bottom line, this is where we're heading: your friends recommend / Like / +1 a wine, so maybe you'll try it, too.
But then again… we're a curious species, and I'd rank wine geeks as among the most curious of the homo sapiens bunch.  Why did our cousin who loves Riesling give the Like action to that big Spanish red blend?  Inquiring minds wanna know…
So the Like action could actually be the starting point for discussion, not the end of it; it might engender more words about a wine, not less, and all in specific contexts that are potentially more meaningful to the average person than a number and/or a protracted list of taste descriptors.
Maybe.
Either way, the more I review wine, and the more social it gets, and arguably the more simple I get, the more this concept fascinates me… the wordless, numberless, characterless (possibly in more ways than one?) social wine recommendation.
Although, right now I think a far more practical addition to the on-line vinous lexicon might actually be the incorporation of the sarcastic "Cool Post, Bro!" meme into wine, particularly when it's poured at large tasting events:
Me (to wine producer X at their tasting table at large wine industry event): So, tell me, what makes this wine special… what makes it uniquely yours?

Wine Producer X: This wine spent 18 months in oak, and was about 26 Brix at harvest, during which we got yields per acre of about–

Me: Cool Wine, Bro! (spits into bucket, leaves abruptly)…
Now that, to coin an oft-used social networking phrase, would be EPIC!
Cheers!